Today's Software
KeyboardLock: turn off your keyboard. Great for those with pets or small children!
DimScreen: dim your computer screen
DeskLock: lock your desktop icons
Subscribe to our Windows section to never miss an article: RSS Feed | E-mail
About Windows Software of the Day
Windows has hundreds of thousands of programs. Because of this great volume and lack of a central store, software discovery (aka finding new and useful programs) is extremely difficult. With our Windows Software of the Day initiative, dotTech aims to change that. Everyday we post three programs, allowing our readers to discover new software, daily. Enjoy! [Subscribe to dotTech to never miss an article: RSS Feed | E-mail]
Developers: Click here to get your apps featured here!
dotTechies: Want to see an app on here? Send us a tip!
Software for August 3, 2012
KeyboardLock

There's an age-old conundrum: what do you do if your cat walks on your keyboard while watching a movie? Suddenly your computer is useless, and your open windows are getting spammed with random keypresses. KeyboardLock is a free program to avoid just that.
KeyboardLock is very easy to use. Type in your designated lock phrase and your keyboard will cease to function. Type in your designated unlock phrase, and suddenly it's fully functional again. It makes it 1000x easier to have a child or pet by your computer while watching movies and enjoying other tasks where the keyboard is not necessary.
Overall, KeyboardLock is a very nice program. It's easy to use, and is entirely free. Be warned that the installer contains ads.
Price: Free!
Version discovered: v1.2.4295
Supported OS: Windows XP+
Download size: 431KB
VirusTotal malware scan results: 0/43
Portability: Requires installation
DimScreen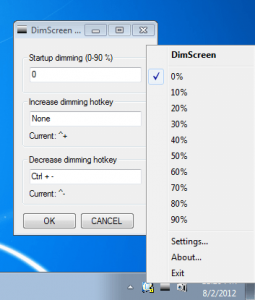 Do you remember Dimmer from a few weeks back? It worked pretty well, but it left a bit to be desired. It was very easy to accidentally move full screen applications in front of the dimmer. DimScreen, which operates on a similar idea, is much better at staying in front and dimming the screen.
DimScreen actually fully dims the entire Windows taskbar and successfully stays in front of full screen videos. This makes it perfect for using your computer at virtually any time of the day. It also supports keyboard shortcuts, so if you'd rather not have to poke around the system tray every time you want to adjust the brightness of your screen DimScreen is great.
Overall, DimScreen is much, much improved over Dimmer, and if you're looking for a program to dim your screen, it's definitely worth a look.
Price: Free!
Version Discovered: v1.1
Supported OS: Windows unknown
Download size: 205KB
VirusTotal malware scan results: 0/42
Portability: No installation required!
DeskLock
Do you let people use your computer often? If you do, you know how much it can suck to have people mess around with your icons. With DeskLock, you can lock down your desktop so it's not modifiable at all.
DeskLock is qiute easy to use. You start it up, and it protects your desktop. It also disables right click, making it so people have to open the start menu to edit your preferences. When you want to disable the lock, you can just use DeskLock's built-in hotkey, or a hotkey of your own.
Overall, DeskLock is very convenient for anyone who is constantly letting others use their computer. One thing that would be nice to have would be a password protection option for the settings.
Price: Free!
Version Discovered: v1.2
Supported OS: Windows unknown
Download size: 205KB
VirusTotal malware scan results: 1/43
Portability: No installation required!
dotTechies: We have tested all the software listed above. However, Windows Software of the Day articles are not intended as "reviews" but rather as "heads-up" to help you discover new programs. Always use your best judgement when downloading programs, such as trying trial/free versions before purchasing shareware programs, if applicable.
Related Posts