Today's Software
Subscribe to dotTech to never miss an article: RSS Feed | E-mail
About Windows Software of the Day
Windows has hundreds of thousands of programs. Because of this great volume and lack of a central store, software discovery (aka finding new and useful programs) is extremely difficult. With our Windows Software of the Day initiative, dotTech aims to change that. Everyday we post three programs, allowing our readers to discover new software, daily. Enjoy! [Subscribe to dotTech to never miss an article: RSS Feed | E-mail]
Developers: Click here to get your apps featured here!
dotTechies: Want to see an app on here? Send us a tip!
Software for August 8, 2012
File Arranger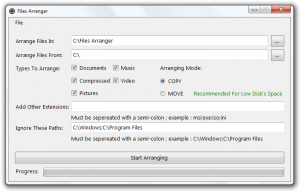 Let's face it. Your computer's a mess! There are files everywhere, and who knows where all of your photos are. You've got some important documents, but without hiring someone to sort through them all, how are you supposed to have them all organized? File Arranger, it turns out, is a free program that automatically sorts files based on file type or extension.
File Arranger is a very simple app. You first select a jumbled mess that may otherwise be called a "folder", and then select another folder to place them in when File Arranger is done. It'll automatically sort all of your documetns, music, compressed files, videos, pictures, and more into subfolders based on type.
It also has features for those who deal with unusual files on a regular basis. You can add your own custom sortable file extensions, and file extensions to exclude from the sort. File Arranger is a very nice program for anyone with a messy desktop, Documents folder, or Downloads folder.
Price: Free!
Version discovered: v1.0
Supported OS: Windows unknown
Download size: 1.1MB
VirusTotal malware scan results: 1/42
Portability: Requires installation
[via AddictiveTips]
SleepWalker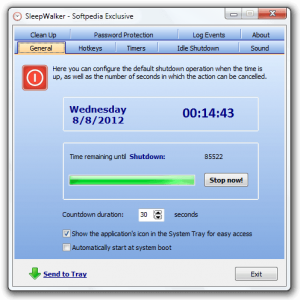 Dead computers are useless computers, but if you enjoy a late-night movie before going to sleep, your laptop will most likely run itself out of battery before too long. Sleepwalker is a free program that lets you manage exactly when your computer shuts itself down to preserve power.
SleepWalker is more than just an automatic shutdown tool, however. It adds a range of keyboard shortcuts to the mix, allowing you to quickly and manually shut down your computer. These shortcuts, or its built-in timers, can shut down, restart, hibernate, or log off your computer, or turn off the monitor. They can even activate your screensaver. Timers can even open files! The timers can be set to recur, or only occur once.
If you're looking for a small array of system cleanup tools, you're in luck. SleepWalker comes with the ability to clear browser data, empty the recycle bin, and a few other tasks on system shutdown. It also lets you set passwords for its settings, stopping random people from setting timers and removing your shortcuts.
Overall, SleepWalker is a great little program for automatic system power management, and I highly recommend it to anyone who's ever had an issue with having to leave their computer on all night to finish up a 20 minute task.
Price: Free!
Version discovered:
Supported OS: Windows XP+
Download size: 7.1MB
VirusTotal malware scan results: 1/41
Portability: Requires installation
[via Ghacks]
Drive-Thru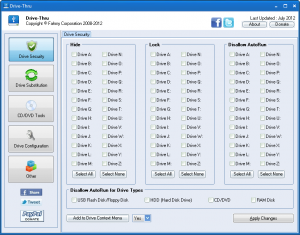 If you're looking for a drive management program, try Drive-Thru. It's a free app that lets you do things like disable autorun, lock and hide drives, and more.
Drive-Thru is quite full of features. From its main page, you can just select drives you want hidden or locked, and you can even disallow autorun by drive letter or type. From the Drive Substitution screen, you can make a drive appear as though it is simply a folder on another drive. The CD/DVD Tools screen lets you burn or mount ISOs.
The next screen contains some of the most interesting settings. Drive Configuration allows you to disable and reenable write protection, as well as changing how drive letters are shown on your system.
Overall, Drive-Thru is a little program that offers quite a few drive-related settings. What's not clear is what its use really is, as Microsoft disabled autorun a while ago anyway, and there are much better ISO management tools.
Price: Free!
Version discovered: July 2012
Supported OS: Windows unknown
Download size: 485KB
VirusTotal malware scan results: 0/42
Portability: No installation required!
[via AddictiveTips]
dotTechies: We have tested all the software listed above. However, Windows Software of the Day articles are not intended as "reviews" but rather as "heads-up" to help you discover new programs. Always use your best judgement when downloading programs, such as trying trial/free versions before purchasing shareware programs, if applicable.
Related Posts