Today's Software
EULAyzer: examine license agreements with ease
MusicBee: a powerful music management program
Dashlane: smart and secure password manager
Subscribe to dotTech to never miss an article: RSS Feed | E-mail
About Windows Software of the Day
Windows has hundreds of thousands of programs. Because of this great volume and lack of a central store, software discovery (aka finding new and useful programs) is extremely difficult. With our Windows Software of the Day initiative, dotTech aims to change that. Everyday we post three programs, allowing our readers to discover new software, daily. Enjoy! [Subscribe to dotTech to never miss an article: RSS Feed | E-mail]
Developers: Click here to get your apps featured here!
dotTechies: Want to see an app on here? Send us a tip!
Software for August 9, 2012
EULAyzer
In the course of writing Windows Software of the Day, I've probably signed at least a hundred EULAs, given away my first born twice, and agreed that everything I ever do is the intellectual property rights of at least five companies. While the chance of any of that coming to pass is infinitesimally low, there's always a chance that something bad might happen as a result of it. With EULAzyer, I can quickly and automatically scan any agreements I agree to, guaranteeing I won't unintentionally give away my fortunes.
To scan a EULA, you just go to the Analyze sidebar button. You can either select, drag, and drop the EULA from an installer onto the "+" button, or just copy and paste it into the text field. After you click Analyze, it'll instantly tell you what the EULA contains. Can this program track you? Will it send non-identifiable data about your computer back to its home base? Can it change without notice? EULAyzer will do its best to catch all shady things that may appear in a EULA.
If you scan a lot of EULAs, you'll love the statistics section. It can tell you the total number of EULAs scanned, as well as their relative lengths, "interesting" words, and "interest ID". It's a great little tool for anyone who's constantly installing and testing software, and helps spread a message about not trusting every program you ever install.
Price: Free!
Version discovered: v2.2
Supported OS: Windows 2000+
Download size: 1.6MB
VirusTotal malware scan results: 0/41
Portability: Requires installation
[via AddictiveTips]
MusicBee
When you think about music programs, what do you think of? Slow, bloated things evolved from original releases in the early 2000s, or worse yet, mid 1990s? MusicBee is different. It's quite new, and is designed with the internet in mind.
MusicBee lets you do some very impressive music management as well. Its tag editor is quite comprehensive, allowing you to add tags for most everything you'd ever need a tag for, and since MusicBee is quite internet-connected, it can also automatically download information about songs you have.
Continuing its internet integration, it can scrobble to Last.fm, which is great for those music sharing fans out there, as with a little more work, this can even mean Spotify-style music sharing on Facebook and the like. Like sharing music? There's Party mode for you. This lets you create a playlist and then lock MusicBee, allowing you to share your collection without others messing with its settings.
MusicBee is an incredibly comprehensive music player and manager, and is awesomely powerful. If you have a large, untagged music collection and are feeling tired of iTunes or WinAmp, try it today!
Price: Free!
Version discovered: v1.4
Supported OS: Windows XP+
Download size: 22.5MB portable | 23.1MB installer
VirusTotal malware scan results: portable 1/39 | installer 0/40
Portability: Portable version available!
[via MakeUseOf]
Dashlane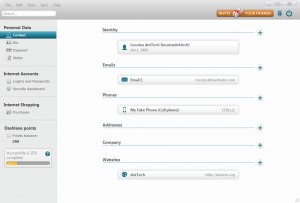 Password managers are both amazing and the worst. I personally was never able to get KeyPass integration working properly in my browsers, and that really spoiled the whole experience for me. Dashlane is different: instead of relying on you to do manual browser extension setup, it does the entire thing itself, including automatic import of passwords previously stored in your browser.
Dashlane is actually more than just a password manager. It stores all of your personal information, including anything you'd need to fill out online forms. Filling out shipment information? Dashlane can automatically input your address, phone, and even credit card if you trust it.
Of course, password management is cool, but it's also extremely annoying if you're a regular user of two devices, and have to remember the passwords on one and not the other. That's why Dashlane has (optional) synchronization, allowing you to sync all, parts, or none of your data between your computers and iDevices. All data, sync'd or not, is stored encrypted with AES-256, meaning the only weak link in the security chain is you.
Overall, Dashlane is a very nice looking, very functional password and personal data manager and sync'r. If you're looking for a password management tool that's seamless and requires virtually no setup, Dashlane is definitely the product you've been waiting for.
Price: Free with $5/mo Premium available
Version discovered: v1.4.1
Supported OS: Windows unknown
Download size: 1.5MB
VirusTotal malware scan results: 0/42
Portability: Requires installation
[via Gizmo's Freeware]
dotTechies: We have tested all the software listed above. However, Windows Software of the Day articles are not intended as "reviews" but rather as "heads-up" to help you discover new programs. Always use your best judgement when downloading programs, such as trying trial/free versions before purchasing shareware programs, if applicable.
Related Posts