Today's Apps
Subscribe to dotTech to never miss an article: RSS Feed | E-mail
About iOS Apps of the Day
iOS has over 600,000 apps. With so many apps out there, app discovery (aka finding new and useful apps) is extremely difficult. With our iOS Apps of the Day initiative, dotTech aims to change that. Everyday we post three apps, allowing our readers to discover new apps, daily. Enjoy! [Subscribe to dotTech to never miss an article: RSS Feed | E-mail]
Developers: Click here to get your apps featured here!
dotTechies: Want to see an app on here? Send us a tip!
Apps for August 10, 2012
Lemon.com Wallet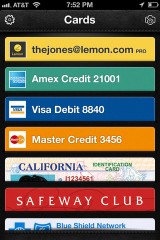 Lemon.com Wallet creates a digital back-up of your wallet that organizes and stores your credit cards, receipts, and coupons. You can even add in your driver's license and insurance cards. The app allows you to take photos of the front and back of your cards, as well as automatically grabbing your credit card number, expiration date, and the security code for storing. Lemon also lets you digitize your receipts by scanning them into the app. It then allows you to create reports of your spending, with the option of sending them to various programs such as Excel or Evernote. Lemon uses SSL encryption and provides secure storage of your cards and receipts. There is also the option of using a 4-digit pass code for added security.
I have been using Lemon.com Wallet as my free digital wallet for awhile and it has come in quite handy. In the past, every time I needed to make a purchase online or on the phone, I would have to go find my wallet in another part of the house. Now, since I always have my phone on me, all my credits cards are right in front of me. Same goes for making doctors appointments and having your insurance card right at your fingertips at all times. The 4-digit pass code also makes me feel safe that nobody will be able to see my information but me. I mainly use the receipt option to manage my prescription and co-pays for tax purposes. Though I think this app can get better, it is a great way to create a digital copy of your wallet.
Price: Free

Version discovered: 4.3
Requires: iPhone/iPod Touch/iPad; iOS 4.2 or up

Download size: 11.6 MB
Analytics Tiles App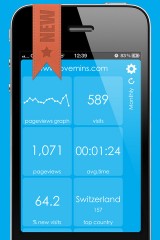 Analytics Tiles App is an innovative and new way to look at your Google Analytics reports. The developer has presented a clean and unique tile design that is easy on the eye and quite user-friendly. Each tile represents one report (i.e. visits, avg. time, browsers, etc.) from your Google Analytics account and you can add as many tiles as there are report options. Analytics Tiles App also allows you to add as many Google profiles and websites as you want. The app graciously provides many color options for the tiles (other than the light blue color pictured) and allows you to drag the tiles in any order you like. You also are given the option to see yesterday's reports, as well as average weekly and monthly statistics.
The lite version of this app limits the user to 2 Google profiles, 8 tiles (reports) per website, and is ad-supported. If those limits fit your needs as is, then you will get the same user experience from the free version, as long as ads don't bother you.
Price: $2.99; (Analytics Tiles Light is an ad-supported and limited free version)
Requires: iPhone/iPod Touch/iPad; iOS 4.3 or up

Download size: 3.3 MB

Babo Crash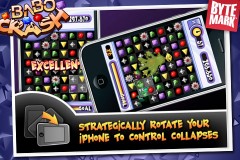 Babo Crash is a match-3 game with a twist, or should I say, a rotation. While match-3 games are quite aplenty in the App Store, this app goes way beyond that. While the typical jewels, matching, and time limits are present, this game goes in a different direction with the power-ups and adds the ability to rotate the screen to assist in the clearing of the jewels. Interestingly enough, the power-ups in Babo Crash are actually little monsters that each have their own unique mega powers. For example, one power is to clear all of the same color and another is to clear an entire line. There is even a monster that actually rolls all over the screen and clears anything in its path. You might ask, how do you control it if it is rolling on the screen? Well, that is where rotation comes in. You can actually rotate your phone to control where the ball rolls. Not to mention the fact that when the gravity changes on the screen, the jewels actually drop in that corresponding direction. The whole concept seems somewhat complicated, but the developer makes the user control quite fluid and easy to use. It is worth noting that there are many more unique power ups that help make this app more of a match-3 game on steroids, as many reviewers have already stated. In reality, if you like match-3 games and are bored of the typical offerings on the App Store, look no further than Babo Crash.
Price: $0.99

Requires: iPhone/iPod Touch/iPad; iOS 3.0 or up

Download size: 17.2 MB

dotTechies: We have tested all the apps listed above. However, iOS Apps of the Day articles are not intended as "reviews" but rather as "heads-up" to help you discover new apps. Always use your best judgement when downloading apps, such as trying trial/free versions before purchasing paid apps, if applicable.
Related Posts