Today's Apps
Subscribe to dotTech to never miss an article: RSS Feed | E-mail
About Android Apps of the Day
Android has over 450,000 apps. With so many apps out there, app discovery (aka finding new and useful apps) is extremely difficult. With our Android Apps of the Day initiative, dotTech aims to change that. Everyday we post three apps, allowing our readers to discover new apps, daily. Enjoy! [Subscribe to dotTech to never miss an article: RSS Feed | E-mail]
Developers: Click here to get your apps featured here!
dotTechies: Want to see an app on here? Send us a tip!
Apps for August 10, 2012
Tiny Flashlight + LED
The future is now: with Tiny Flashlight + LED, you can live the dream. It's an ad-supported app that allows you to use your camera's built-in flash module as a flashlight. I've never seen anything more futuristic than this!
Tiny Flashlight is one of a number of apps that is designed to perform this exact task. It's not exactly a revolutionary idea, either, but it's still useful on any given day. It can use both your camera's flash module and simply your LCD screen as ways to light your path. Obviously, the camera flash is magnitudes brighter than the screen, but if your phone doesn't have flash, it's a nice stopgap.
It's actually more than a flashlight, too. Tiny Flashlight can flash in patterns, enabling you to turn your phone into a strobe light, a police-style light, send morse code, and more. Overall, Tiny Flashlight is a pretty useful flashlight app, but there's nothing really too special about it.
Price: Free!

Version discovered: v4.9.2
Requires: Various
Download size: 1.3MB
Tiny Flashlight + LED on Play Store
Arcis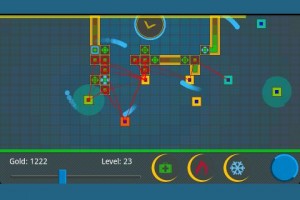 There are billions of different takes on the tower defense genre, and if you've grown bored of them all, I've got good news: a new one has arrived. Arcis is a free tower defense game in which you must build walls and towers to defend the central tower.
Arcis is different from other tower defense games. Rather than being entirely place-and-go, it lets you go into the central tower and control it yourself. There's no longer any waiting around for the wave to be over, as you're busy controlling your tower. Of course, there's more than just the central tower. There's a total of three other types of towers, and each can be upgraded multiple times.
Overall, Arcis is a fun little arcade/tower defense mix. Unfortunately, it did not work properly on my Samsung Vibrant, but worked great on my other devices. It's definitely still a work in progress, but is already quite fun.
Price: Free!

Version discovered: v1.0
Requires: Android 2.3.3+
Download size: 7.9MB
FlightTrack Free
Tracking flights used to suck. Airlines that have built-in viewscreens appear to have bought said screens in the mid 1980s, and any apps designed to replace them have utterly failed to update their fantastically horrible user interface. FlightTrack Free is different: it's had effort put into making it look nice, and it certainly paid off. It's a beautiful flight tracking app for anyone who needs to track a flight.
FlightTrack Free allows you to see the semi-real time path of given flights as they're in the air. They're shown on a beautiful rendition of Google Maps, and at the same time, can show you the arrival time. You can also go to the flight screens to track multiple flights at once. If you're looking to upgrade, it's unfortunately not clear what features FlightTrack Free is missing over FlightTrack or FlightTrack Pro, and both other versions are significantly more out of date than FlightTrack Free.
In short, FlightTrack Free is a great little app for showing you exactly where a flight currently is in the world. It can give you arrival times, gate numbers, baggage lane numbers, and more in one great-looking, well-designed interface. If you're looking for a flight-tracking app, FlightTrack Free is it.
Price: Free!
Version discovered: v1.0
Requires: Android 2.3+
Download size: 5.1MB
FlightTrack Free on Play Store
[via Android Police]
dotTechies: We have tested all the apps listed above. However, Android Apps of the Day articles are not intended as "reviews" but rather as "heads-up" to help you discover new apps. Always use your best judgement when downloading apps, such as trying trial/free versions before purchasing paid apps, if applicable.
Related Posts