Today's Apps
Swipe Launcher: compliment Jelly Bean's swipe-up voice search with apps of your choosing
Smart Statusbar: pull down the status bar, even from within full-screen apps
Home Button: broken home button? Don't sweat it, use this replacement from your notification tray
Subscribe to dotTech to never miss an article: RSS Feed | E-mail
About Android Apps of the Day
Android has over 450,000 apps. With so many apps out there, app discovery (aka finding new and useful apps) is extremely difficult. With our Android Apps of the Day initiative, dotTech aims to change that. Everyday we post three apps, allowing our readers to discover new apps, daily. Enjoy! [Subscribe to dotTech to never miss an article: RSS Feed | E-mail
Developers: Click here to get your apps featured here!
dotTechies: Want to see an app on here? Send us a tip!
Apps for August 12, 2012
Swipe Launcher
With Android 4.1 "Jelly Bean", you can just swipe up from the row of virtual keys at the bottom to open Google Now and Google Voice Search. However, some people feel rather limited with this choice in app, and would rather be able to select their own app or apps. Swipe Launcher is a free app that lets you do just that: when you swipe up, you'll be presented with a list of apps of your chosing.
Swipe Launcher is very easy to configure. Just swipe up like you're activating Google Voice Search, and select Swipe Launcher as the default app for this action. Then, press Edit on the resulting screen to begin selecting apps. You can put frequently used apps here, such as Twitter or Gmail, or apps you might need in a hurry, such as Camera. When you are done, swipe up again to see your new menu in action.
If you're looking for a way to add additional apps to the swipe-up action in Jelly Bean, Swipe Launcher is just the app you're looking for. It's free, but if you want to add more than two additional apps, you're going to have to pony up for an in-app purchase.
Price: Free with ability to add >2 apps as in-app purchase

Version discovered: v1.0
Requires: Android 4.1+
Download size: 439KB
Smart Statusbar
There are certain amazing-looking apps that have the unfortunate need to hide the status bar, and with it, your notifications, time, and other important information. Smart Statusbar is a free app that lets you counter this annoying ability: apps can still hide the status bar, allowing them to show you distraction-free full-screen views of videos and graphics, but when you swipe down from the top of your screen, your status bar will magically appear.
Smart Statusbar is both tiny and easy to use. You just swipe down from the top as though you were dragging the notification shade down from off-screen, and Smart Statusbar will do the rest. No longer will you have to do an awkward combination of backing up, tapping on things, and perhaps even going to the home screen to get the time.
There's really only a few things missing left from Android, and this could well be qualified as one of them. It seems like an odd thing to leave out–getting to the status bar from full-screen apps–but Smart Statusbar fully fills the need for any such feature with great ease.
Price: Free!

Version discovered: v1.2
Requires: Android 2.0+
Download size: 125KB
Home Button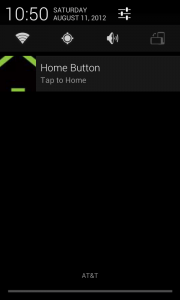 Is your phone's physical home button bad? Home Button circumnavigates the issue by adding a home button option to your notification tray.
There's not much to this app at all. It requires no permissions to run, and its description is very, very minimal (and written in broken English):
Home button is broken.
Effectiveness of the Home button is bad.

Please try to use such a person is
There's only one major thing missing from Home Button, and that's the ability to start on startup. Other minor issues are the ugly icon, and its omnipresent icon in the status bar. Both of those are visual, and don't matter nearly enough to warrant buying a new phone, or disassembling your current one to replace your device. If you're freaking out about your device's home button, don't! Just install a new Home Button.
Price: Free!

Version discovered: v2.0
Requires: Android 1.6+
Download size: 9.9KB
dotTechies: We have tested all the apps listed above. However, Android Apps of the Day articles are not intended as "reviews" but rather as "heads-up" to help you discover new apps. Always use your best judgement when downloading apps, such as trying trial/free versions before purchasing paid apps, if applicable.
Related Posts