Today's Apps
SignNow (Sign and fill PDF & Word documents)
Podcruncher (Podcast player and manager for podcasts)
Orba (A deliciously addictive color smasher)
Subscribe to dotTech to never miss an article: RSS Feed | E-mail
About iOS Apps of the Day
iOS has over 600,000 apps. With so many apps out there, app discovery (aka finding new and useful apps) is extremely difficult. With our iOS Apps of the Day initiative, dotTech aims to change that. Everyday we post three apps, allowing our readers to discover new apps, daily. Enjoy! [Subscribe to dotTech to never miss an article: RSS Feed | E-mail]
Developers: Click here to get your apps featured here!
dotTechies: Want to see an app on here? Send us a tip!
Apps for August 12, 2012
SignNow – Sign and Fill PDF & Word Documents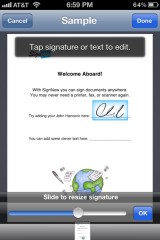 SignNow allows you to sign documents anywhere or get anyone's signature for free. The app can be used to sign and fill documents including NDA's, sales agreements, celebrity endorsements, real estate contracts, financing agreements, permission slips, marriage documents, and much more. To use the app, you simply upload any PDF or Word document from your phone's email, dropbox, or camera. You follow by realistically creating a signature with your finger on the screen, then email the signed document to anyone, or save the document to a free SignNow account. SignNow boasts secure bank quality encryption and legally binding electronic, digital, and e signatures. Not to mention the fact that it keeps a running history of your signed documents and there are no ads.
I recently went through the difficult process of buying and selling real estate. This app was absolutely indispensable for me, because I was able to get contracts from my lawyer, sign them using the app, and quickly return the document to speed up the process. I can also see this working very well for professionals, because you can send documents using SignNow and wait on their clients to return them with a signature.
Price: Free

Requires: iPhone/iPod Touch/iPad; iOS 4.0 and up

Download size: 6.9 MB

SignNow – Sign and Fill PDF & Word Documents on iTunes
Podcruncher – Podcast Player and Manager for Podcasts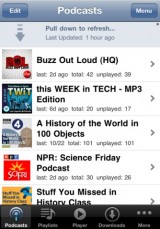 Podcruncher allows you to stream and download podcast episodes over 3G and WiFi. The app allows you to browse the top-100 podcasts in 16 different categories, as well as search by podcast title, author, or description. Podcruncher also boasts a hands-free podcast player for driving or exercising. Another excellent feature of this app is that it lets you subscribe to any podcast feed using its URL, which is quite handy if you enjoy a specific podcast.
I personally use Podcruncher, because the other apps in this genre are either too buggy or expensive. I enjoy listening to sports and technology podcasts and I found many of them through Podcruncher. The app allows you to subscribe to the podcast and actually has the option to automatically download any new episode for you. I greatly appreciated that feature, which is why I have stuck with Podcruncher. Really the only thing missing in this app would be push notifications, but otherwise, it is well-designed and quite useful.
Price: $0.99

Requires: iPhone/iPod Touch/iPad; iOS 4.0 and up

Download size: 1.8 MB

Podcruncher – Podcast Player and Manager for Podcasts on iTunes
Orba – Color Smasher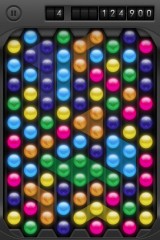 Orba is a tremendously addictive color smashing game. The goal of the game is to tap groups of same-colored orbs to clear the screen, with longer orb chains earning more points. The difficulty of the game is that each time you clear the screen to the point where no more chains exist, more orbs will fall into play. Eventually, it will become increasingly difficult to build longer chains, the screen will fill up gradually, and the game will end if you have a full screen of orbs with no more moves.
This is great time killer for the match-3 game enthusiast. I find that after playing games for awhile, I will often remove them. This is the type of game that you will always go back to, because it is simple to play, but does require enough strategy to keep you interested.
Price: $1.99

Requires: iPhone/iPod Touch/iPad; iOS 3.1.3 and up

Download size: 14.2 MB

Orba – Color Smasher on iTunes
dotTechies: We have tested all the apps listed above. However, iOS Apps of the Day articles are not intended as "reviews" but rather as "heads-up" to help you discover new apps. Always use your best judgement when downloading apps, such as trying trial/free versions before purchasing paid apps, if applicable.
Related Posts