Today's Apps
Subscribe to dotTech to never miss an article: RSS Feed | E-mail
About iOS Apps of the Day
iOS has over 600,000 apps. With so many apps out there, app discovery (aka finding new and useful apps) is extremely difficult. With our iOS Apps of the Day initiative, dotTech aims to change that. Everyday we post three apps, allowing our readers to discover new apps, daily. Enjoy! [Subscribe to dotTech to never miss an article: RSS Feed | E-mail]
Developers: Click here to get your apps featured here!
dotTechies: Want to see an app on here? Send us a tip!
Apps for August 16, 2012
RetailMeNot Coupons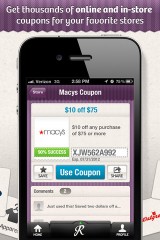 RetailMeNot allows you to search from hundreds of thousands of online and in-store coupons, whether you're on the go or in the comfort of your home. It not only provides "Today's Hot Deals" in an eye-catching and brilliant flipping menu, but it also allows you to access the "Top Coupons", "Popular Stores", and "Categories" to assist in your search. And if you know the store you are looking for, there is the typical search box as well. When you select a coupon, it provides not only the coupon code and description, but also the success of use percentage and any comments left by previous users of the coupon. If you find a can't miss deal that is to good not to share, the app provides the options to do so with anyone through SMS, Email, Twitter, or Facebook.
I found that RetailMeNot was tremendously user-friendly. If you choose to use the coupon immediately, the app will bring you to the web page of the store and keep the coupon code on the top of the screen while you shop. The only thing you have to do is drag and drop it in the coupon code box when it is time to pay. To me, that is a brilliant concept that the developer created. Also, if you choose to use the coupon at a later date, you simply just save it in the app. Given that this app is free and saves money, I'm not sure why anyone would pass it up.
Price: Free

Requires: iPhone/iPod Touch/iPad; iOS 5.0 and up

Download size: 7.0 MB

NOAA Hi-Def Radar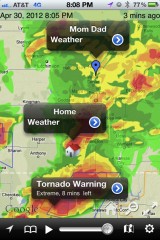 NOAA Hi-Def Radar is a simple yet powerful app for viewing real-time animated weather radar images in vivid color on a highly responsive interactive map. The app also provides a unique feature where you can save multiple location bookmarks on the map with a large number of icon options. NOAA Hi-Def Radar also includes a cloud/satellite layer, severe weather warning boxes drawn on the map, storm tracks represented by arrows, and even hurricane forecast tracks. The app provides adjustable settings such as default loop speed, interval between frames, and number of frames in a single animation. Using the maximum values in a few of these settings will actually result in 6 hours of past radar loop data.
There are many weather apps on the App Market, but I find that some of the good ones either have a poor radar or doesn't have one at all. That is where an app like NOAA Hi-Def Radar comes in. I have personally tested many radar apps, including several expensive ones, but NOAA Hi-Def Radar tends to be the most user friendly of the bunch, with many enhancements that make the app an excellent buy.
Price: $1.99

Requires: iPhone/iPod Touch/iPad; iOS 4.3 and up

Download size: 2.5 MB

JewelUp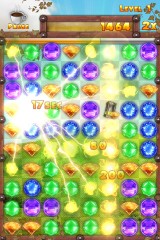 JewelUp is a simple and addictive puzzle game with dynamic and fun gameplay. This app is another match-3 game that takes a different path in its gameplay. Instead of choosing 3 jewels to match, you actually slide your finger on top of 3 or more of any kind that are adjacent horizontally or vertically. This will create a path that will be eliminated when you lift your finger, with more jewels dropping down from the top of the screen. There are three game modes, the games trademark mode overcharge, timeattack, and endless. The goal of overcharge is to ultimately eliminate a certain amount of each jewel. By doing so, you will "overcharge" mini reactors in each color, creating an explosion (seen in the screenshot to the right). Eliminating all reactors moves you to the next level. Timeattack and endless don't involve reactors and are pretty much self explanatory. The game also provides 6 options for jewel themes and 8 options for backgrounds.
Price: $0.99

Requires: iPhone/iPod Touch/iPad; iOS 3.0 and up

Download size: 18.8 MB

dotTechies: We have tested all the apps listed above. However, iOS Apps of the Day articles are not intended as "reviews" but rather as "heads-up" to help you discover new apps. Always use your best judgement when downloading apps, such as trying trial/free versions before purchasing paid apps, if applicable.
Related Posts