Today's Apps
IntelliRing: make your phone ring louder when covered up and quieter when not
Flow Free: connect matching colors without overlapping
Ceramic Destroyer: destroy ceramics by shooting them
Subscribe to dotTech to never miss an article: RSS Feed | E-mail
About Android Apps of the Day
Android has over 450,000 apps. With so many apps out there, app discovery (aka finding new and useful apps) is extremely difficult. With our Android Apps of the Day initiative, dotTech aims to change that. Everyday we post three apps, allowing our readers to discover new apps, daily. Enjoy! [Subscribe to dotTech to never miss an article: RSS Feed | E-mail]
Developers: Click here to get your apps featured here!
dotTechies: Want to see an app on here? Send us a tip!
Apps for August 16, 2012
IntelliRing
There are two potential avenues of ringtone volumes: you can either have the volume at 100%, and annoy everyone within a 100 foot radius by blasting a tune you had no idea even existed on your device, or you can have it on buzz and always forget your device. IntelliRing breaks this duality: once installed, your phone will intelligently decide which volume to ring at.
IntelliRing is great if you have ever had your phone blast out during a meeting, movie, or even at your desk. It listens to ambient noise to decide which volume to play at, and if it's quiet, it'll match its volume to be noticeable but not annoying. The same is true if you're driving down the highway with your windows open: with all that ambient noise, it'll set itself as loud as possible to let you know that you've got a call. (Please don't pick up if you're actually driving.)
Of course, there are also other situations in which you'd rather not hear a notification at all. With IntelliRing, you can just flip your phone over to put it into Meeting mode–rather than ringing, it'll just beep a few times to subtly let you know what's going on. You can also optionally input silent hours, in case you're going to the movies or otherwise need a silent device.
IntelliRing is a very, very nice app for making your phone much more manageable, and its ear-saving goodness is certainly very nice. It uses negligible battery, and is all around a must-have for anyone who receives many phone calls.
Price: Free 30-day trial; $1.99 full version

Version discovered: v1.2.0
Requires: Android 2.2+
Download size: 523KB
IntelliRing Free on Play Store
Flow Free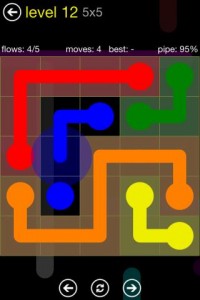 Are you looking for a fun little puzzle game that stretches your mind? Try Flow Free, a free puzzle game originally for iOS. In it, you have to connect various sets of pipes together, but you're not allowed to overlap or cross other pipes.
Flow Free is a very simple type of game, but it can be surprisingly complex. There are hundreds of levels, and they get harder as you go, so there's always a challenge involved. If you think they're all too easy, you can just try a Time Trial instead: can you beat the clock?
There's not much to write about this simple game, but that doesn't mean it doesn't contain hours upon hours of gameplay. Flow Free is a fun little app, and while easy to learn, can lead to hours of fun.
Price: Free!

Version discovered: v1.5
Requires: Android 2.2+
Download size: 4.3MB
Ceramic Destroyer
Looking to get some destructive fun in without destroying a thing? Ceramic Destroyer is a free little game where you get to sit back, relax, and blow up virtual ceramics. Ceramic Destroyer is a lot like Angry Birds, with various types of weapons and tons of levels, but is fundamentally different. Instead of just blowing up boring green pigs, you get to relieve some pressure by blowing up virtual ceramics.
Ceramic Destroyer, like Angry Birds, has a catapult-based system with multiple projectile types. There is the classic Green bomb, which simply explodes, but there's also the Blue one, which splits into threes, the Yellow one, which lets you choose where to set three mini-bombs, and the Purple ones, which let you control the bomb direction with your finger. The goal with Ceramic Destroyer is to blow up 90% or more of each ceramic.
If you're looking for a way to blow off some steam without actually breaking anything, Ceramic Destroyer might be for you. Otherwise, if you're a fan of Angry Birds-style games, it might also be for you. There's no way to know without trying, so download it today!
Price: Free!

Version discovered: v1.8
Requires: Android 2.1+
Download size: 13MB
Ceramic Destroyer on Play Store
dotTechies: We have tested all the apps listed above. However, Android Apps of the Day articles are not intended as "reviews" but rather as "heads-up" to help you discover new apps. Always use your best judgement when downloading apps, such as trying trial/free versions before purchasing paid apps, if applicable.
Related Posts