Today's Apps
Subscribe to dotTech to never miss an article: RSS Feed | E-mail
About iOS Apps of the Day
iOS has over 600,000 apps. With so many apps out there, app discovery (aka finding new and useful apps) is extremely difficult. With our iOS Apps of the Day initiative, dotTech aims to change that. Everyday we post three apps, allowing our readers to discover new apps, daily. Enjoy! [Subscribe to dotTech to never miss an article: RSS Feed | E-mail]
Developers: Click here to get your apps featured here!
dotTechies: Want to see an app on here? Send us a tip!
Apps for August 18, 2012
imo instant messenger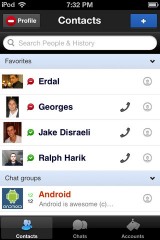 imo instant messenger allows you to talk to your friends on any IM network, including Facebook Chat, Google Talk, Skype, MSN, ICQ/AIM, Yahoo, Jabber, Hyves, VKontakte, Myspace, and Steam. The app allows you to make high quality voice calls, as well as send voice IMs (like a walkie-talkie). imo instants messenger also supports group messaging and photo sharing.
Being able to combine all of your chat services into one easy-to-use app is a brilliant idea. Many people end up having multiple apps open on their phone, waiting for chat messages from different services, so using just one for everything is very convenient. I logged into a couple of my accounts without a problem and have been using the app for awhile now.
Price: Free

Requires: iPhone/iPod Touch/iPad; iOS 3.1 and up

Download size: 15.3 MB

imo instant messenger on iTunes
Pimp Your Screen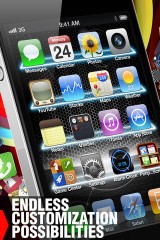 Pimp Your Screen helps you customize the look of your device by giving you an exclusive selection of specially designed backgrounds, icon skins, app shelves, and neon combos. The app's instant preview feature conveniently allows you to quickly preview any new enhancement that is added to your screen, unlike your device's default behavior of adding backgrounds. The app allows you to full customize the home and lock screens, as well as share your screens on Facebook, Twitter, Tumblr, or email.
Pimp Your Screen was one of my first downloads and I use it as my main screen customization tool when I want a fresh new look. The app's backgrounds are excellent and updated often to ensure that the app doesn't get stale, which I have seen with other apps in this genre.
Price: $0.99

Requires: iPhone/iPod Touch/iPad; iOS 3.0 and up

Download size: 34.6 MB

Swordigo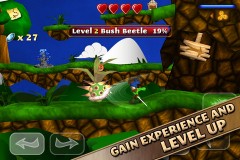 Swordigo allows you to run, jump and fight your way through a vast world to defeat the spreading corruption. The app is a hack-and-slash game in the mold of Nintendo's classic Zelda games. It is quite impressively designed for an iPhone app and provides many hours of challenging gameplay to appease the typical user. Swordigo allows you to travel to a magical realm of dungeons, towns, treasures and devious monsters, while gaining experience and leveling up your character along the way. You will also find powerful weapons, items and spells on your adventure that can be used to to defeat your enemies.
I found Swordigo to be quite impressive, because the graphics and gameplay didn't seem much different than the classic Nintendo games that we all know and love. I will say that the game control was a little difficult to get used to for me, because the buttons are jumbled together a bit, but the difficulty level was difficult enough to keep my interest.
Price: $1.99

Requires: iPhone/iPod Touch/iPad; iOS 4.1 and up

Download size: 77.8 MB

dotTechies: We have tested all the apps listed above. However, iOS Apps of the Day articles are not intended as "reviews" but rather as "heads-up" to help you discover new apps. Always use your best judgement when downloading apps, such as trying trial/free versions before purchasing paid apps, if applicable.
Related Posts