Today's Apps
Subscribe to dotTech to never miss an article: RSS Feed | E-mail
About iOS Apps of the Day
iOS has over 600,000 apps. With so many apps out there, app discovery (aka finding new and useful apps) is extremely difficult. With our iOS Apps of the Day initiative, dotTech aims to change that. Everyday we post three apps, allowing our readers to discover new apps, daily. Enjoy! [Subscribe to dotTech to never miss an article: RSS Feed | E-mail]
Developers: Click here to get your apps featured here!
dotTechies: Want to see an app on here? Send us a tip!
Apps for August 21, 2012
Mobile Mouse Pro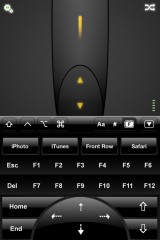 Mobile Mouse Pro turns your iPhone into a wireless mouse & trackpad for your computer. All you need to do is download a small, unobtrusive program called Mobile Mouse Server from the developer's website, and you will be able to control your computer from anywhere in your wi-fi network. This app is essential for any user who has a home theater connected to their PC or who does frequent presentations for their job. Mobile Mouse Pro also features an ingenious dock of popular PC and Mac programs that can be used to directly open them on the user's computer (rather than finding the program and clicking on it). In reality, the app's features seem endless and it only gets better with every update.
I cannot say enough about Mobile Mouse Pro. If you have any use for using your phone as a mouse, this program is the best on the App Market. I use it to control my home theater PC and I have run into zero problems. It is brilliantly designed and the mouse connection is as smooth as you can get. There is also multiple keyboard screens for all sections of the typical keyboard, as well as controls for media players. I would suggest trying the Lite version for fun and seeing if it is what you are looking for.
Price: $1.99 (Lite version is Free)

Requires: iPhone/iPod Touch/iPad; iOS 3.2 and up

Download size: 7.2 MB

Swell Info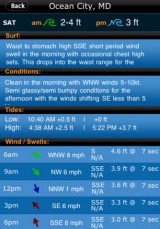 Swell Info contributes surf reports and marine forecasts for your iPhone. The app features full 7 day surf forecasts (AM and PM), including the current surf-spot weather, ocean & wind conditions, high/low tide times, and wave heights/periods. Swell Info currently provides surf forecasts for the entire United States, as well Mexico, Central America, and Puerto Rico. You can also save up to 5 surf locations in the app, with forecasts that update every hour.
I can verify the accuracy of this app versus others on the market. Please realize that this app can be quite valuable not only for surfers, but for any person who enjoys water sports, boating, or any beach-related sports (such as volleyball). Swell Info is well-designed and accurate.
Price: $2.99

Requires: iPhone/iPod Touch/iPad; iOS 3.0 and up

Download size: 0.8 MB

W.E.L.D.E.R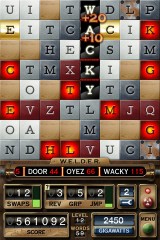 WELDER is a unique word puzzle game with a stunning interface . The goal of the game is to create as many words as possible, but you are limited to only certain number of swaps (i.e. switching adjacent letters). The only way to get more swaps is to get more points. WELDER conveniently provides several powerful "special" swaps called Group, Reverse, and Jump, which give you more methods for creating words. There are also special multiplier tiles that not only have their own rules for being cleared, but give you many more points. Recent updates have even added a turn-based multiplayer mode, which has put this app over the top in terms of popularity.
WELDER is just a fantastic game. If you like word games, it is impossible to dislike this app. Well-designed, challenging, and possessing a striking interface, WELDER is everything a user would want in a word game.
Price: $2.99

Requires: iPhone/iPod Touch/iPad; iOS 5.0 and up

Download size: 48.7 MB

dotTechies: We have tested all the apps listed above. However, iOS Apps of the Day articles are not intended as "reviews" but rather as "heads-up" to help you discover new apps. Always use your best judgement when downloading apps, such as trying trial/free versions before purchasing paid apps, if applicable.
Related Posts