Today's Software
Subscribe to dotTech to never miss an article: RSS Feed | E-mail
About Windows Software of the Day
Windows has hundreds of thousands of programs. Because of this great volume and lack of a central store, software discovery (aka finding new and useful programs) is extremely difficult. With our Windows Software of the Day initiative, dotTech aims to change that. Everyday we post three programs, allowing our readers to discover new software, daily. Enjoy! [Subscribe to dotTech to never miss an article: RSS Feed | E-mail]
Developers: Click here to get your apps featured here!
dotTechies: Want to see an app on here? Send us a tip!
Software for August 22, 2012
USB Disks Access Manager
There's a danger lurking in every removable media your friends plug into your computer: will they accidentally give you the viruses you worked so hard to take off of their computers in the first place, or are they just planning on playing a practical joke on you by running a program that hides the cursor? Either way, it can be safer to disallow USB drives on a system-wide basis whenever you're not using them with USB Disks Access Manager.
Besides the security point of view, you can also use USB Disks Access Manager to charge your phone without having a thousand prompts come up asking you for the hundredth time if you're sure you don't want to import photos with Windows Photo Viewer. USB Disks Access Manager even lets you set your drives to read-only, and although the rule only applies on the system you ran USB Disks Access Manager on, it can be great for preventing the accidental spread of viruses, or confidential files.
USB Disks Access Manager is easy to use. Start it up, and select a mode. Windows' default mode is to allow read and write access to all disks, but if you're interested in stopping writing that's only a click away. There's also the option to simply disable USB drive detection entirely, if you're that security conscious. After clicking Apply, your selection will apply to any newly plugged in drive attached to your system.
Although there's no 100% way to be sure that you're not accidentally allowing the spread of confidential files or viruses from device to device, USB Disks Access Manager is a nice tool that lets you gain a little security without having to disable the USB ports entirely. This is almost necessary, especially on modern, USB-only systems that have no dedicated mouse or keyboard ports.
Price: Free!
Version discovered: v1.0
Supported OS: Windows 2000+
Download size: 422KB
VirusTotal malware scan results: 1/43
Portability: Requires installaiton
USB Disks Access Manager homepage
[via Freeware Genius]
Universe Sandbox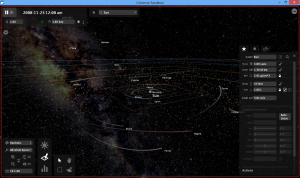 The universe is a beautiful place. There are stars, planets, and other stellar bodies everywhere, but at the same time, almost all space is absolutely empty. The bodies take weeks to travel across distances we can't even begin to imagine, each one tugging slightly on the others in some bizarre cosmic dance. With Universe Sandbox, you can play around with this dance and simulate the universe with extreme ease.
As you can see in the video below, there are thousands upon thousands of small items that you can simulate. Want to see what would happen if the moon exploded? Believe it or not, Universe Sandbox can show you that! It also allows you to see just how minuscule our galaxy is compared to the "local" Andromeda galaxy, and just how tiny we are on a cosmic scale. Take a look at this short video showing off some of the things you can do with Universe Sandbox:
The free version of Universe Sandbox is unfortunately a little limited. You can only add more stellar bodies during the 60-minute Premium trial, and you can only view pre-programmed simulations. Since most of the fun in Universe Sandbox is in editing the various celestial bodies to give them extreme mass and other such wacky properties, and most of what you can do in the free version of Universe Sandbox is sit back and watch, you'll get a good feel of what you can do, and a healthy dose of wanting to buy Universe Sandbox.
Universe Sandbox Premium is $19.95, and is quite fun to play around with.
Price: Free with $19.95 Premium version
Version Discovered: v2.1.5
Supported OS: Windows XP+
Download size: 35.4MB
VirusTotal malware scan results: N/A (file too large)
Portability: Requires installation
[via MakeUseOf]
Reversi Twist
Do you remember the game Othello? It's the brand name of Reversi, a strategy game in which you seek to have more tiles than the other player at the end of the game. If that sounds boring or dry, think again: Reversi is an awesomely fun game, and is now available for free for Windows 8.
Of course, what's a two player game without an opponent? Reversi Twist comes with a built-in AI, allowing you to play against the computer on one of four difficulty levels. Easy is predictably quite easy to beat, but be warned: it's the only one! The AI can be quite crafty in its takeover of the board.
But there's something missing about playing against a computer. That's why Reversi Twist lets you play against a real person: after one person goes, you just pass your computer or tablet to the other person, and they can go. It allows for all the fun of a traditional game of Reversi, with all of the modern graphics and sound effects of a computer. (You may find yourself muting Reversi Twist.)
There's still one thing about Reversi Twist left: what's the twist? Classic games of Reversi take place on an 8×8 board, and while that's certainly an option in Reversi Twist, you can also play on a 10×10 board. This seemingly small change actually effects gameplay significantly, as no longer can you count on certain foolproof techniques to beat your opponents. The rules have changed, and you must too!
Overall, Reversi Twist is a great game, and it's nice to see it being offered for free. If you're a fan of the physical game, go grab a digital copy today: it's fun, and its AI is intelligent enough to put up a good fight. Reversi Twist carries Reversi over into the digital realm with great ease and beauty, and is a fun game for anyone's computer.
Price: Free!
Last updated: unknown
Supported OS: Windows 8
Supported processors: x86/x64/ARM
Download size: 17.7MB
Reversi Twist on Windows Store
dotTechies: We have tested all the software listed above. However, Windows Software of the Day articles are not intended as "reviews" but rather as "heads-up" to help you discover new programs. Always use your best judgement when downloading programs, such as trying trial/free versions before purchasing shareware programs, if applicable.
Related Posts