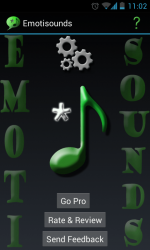 Are you looking for a way to make your text messages less… boring? Emotisounds is a free app that lets you add real sounds to your text messages through pre-recorded, specially-formatted phrases.
Using Emotisounds is simple enough. After installation, there's a simple app part of Emotisounds that contains just a few settings. You can listen to the pre-recorded messages, or add your own (Pro version only). You can also choose basic setup settings, such as which sound option to obey.
Once you receive a text message with the correctly formatted text–for instance, you could text *omg* to make Emotisounds play the recording for omg–the sound will automatically play. You'll also get a notification in your notification tray telling you that there were Emotisounds in the message. If you miss the original sound, it's nice for playing it again.
Overall, Emotisounds is a nice idea, but needs a bit more design factor thrown in. Its main app screen looks like it was designed in Word using exclusively Word 2003's cool new WordArt feature, and the need for multiple taps to get the messages playing is annoying. However, since most people won't ever see the main app, it's a fairly moot point. Though Emotisounds is quite ugly, it definitely has potential.
Price: Free with $0.99 Pro version
Version discovered: v1.1
Requires: Android 2.1+
Download size: 6.9MB
[via Droid Nerds]
Related Posts