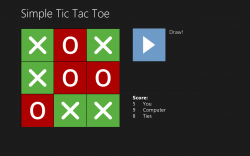 Some games are destined to fall away and never be played again. Others are timeless, and will exist as long as humans do. Tic Tac Toe is one of those simple, fun games, and with Simple Tic Tac Toe, you can play a fun game in just seconds on any Windows 8 or Windows RT computer.
Simple Tic Tac Toe is quite true to its name. Opening it takes less time than it does to look up from your mouse to your screen, and it plops you right into a game. It automatically advances through the rounds, and it keeps score right under the Reset button.
There's really, literally nothing else to Simple Tic Tac Toe. You click to place tiles, and if you want to reset the board, you hit the blue button. Your score is kept in the lower right underneath the reset button. It's probably the simplest game I've ever played for PC or Android. It's definitely a keeper, and is again a super simple but fun game.
Price: Free!
Last updated: never
Supported OS: Windows 8
Supported processors: x86/x64/ARM
Download size: 52KB
Simple Tic Tac Toe on Windows Store
Related Posts