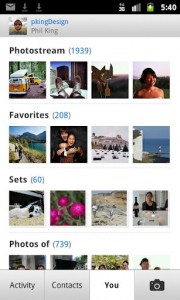 Do you enjoy photography? If you do, you're probably very familiar with Flickr, the popular photo-sharing website owned by Yahoo. However, until recently, its app has been relatively subpar. Now, there's a new update that improves the app immensely, including photo detail editing, better configurability, and bug fixes.
Flickr allows you to upload and take pictures, right from the Flickr app. Once uploaded, you can apply fancy photo effects, much like with that other photo sharing app for mobile phones. On behalf of all internet users, please don't overuse them!
There's a great community over at Flickr, and its app is pretty nice. There are still some interface issues–it's not exactly designed by the best design team on the planet–but it's overall a nice app for any Flickr user.
Price: Free!

Version discovered: v1.5.0
Requires: Android 2.1+
Download size: 4.9MB
Related Posts