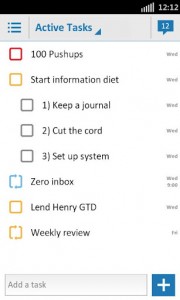 There are tons of to-do apps, and we've even covered several in the last few days. Astrid is different: designed for Android, Astrid lets you do all of the group management work you can do with Trello and Wunderlist, and it has a great tablet interface to top it off.
Astrid's really not too much different from other to-do managers. It's got the same project and task based interface of Trello and Wunderlist, and it adds minor things such as widgets and a tablet interface. The widget is actually quite nice–it shows you your upcoming tasks in a small little widget.
Astrid also allows for better syncing than the other to-do apps. It allows you to sync to both Astrid's proprietary cloud, and Google Tasks. The Google Tasks synchronization is probably my favorite feature of Astrid, as it allows you to get your tasks on a well-supported 3rd party platform used by lots of other apps.
Overall, Astrid To-do is a great todo app. Its synchronization options are great, and its interface is certainly a plus. If you're looking for a good todo app, Astrid is definitely worth a download.
Price: Free!

Version discovered: v4.2.6
Requires: unknown
Download size: 4.1MB
Astrid Task/To-do List on Play Store
Related Posts