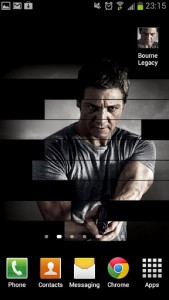 Are you a fan of the Bourne franchise? If you are, you'll find the new, official Bourne Legacy Live Wallpaper awesome, celebrating the release of the corresponding movie earlier this month.
This wallpaper is quite simple, really. It slides through a set of photos from the movie. It's really too bad you can't set your own photos, as the effect is quite nice.
There's really not much to this live wallpaper. If you open the app part of the wallpaper, it gives you not only the option to set the live wallpaper, but to also watch the movie trailer, go to the film's website, read about the film, or share the app with a friend.
The Bourne Legacy Live Wallpaper is a quite simple wallpaper. Even though it's really just an extremely obvious marketing tool, it's still a nice app for anyone who's a truly dedicated fan of the Bourne series.
Price: Free!

Version discovered: v1.3
Requires: Android 2.2+
Download size: 7.9MB
Bourne Legacy Live Wallpaper  on Play Store
Related Posts