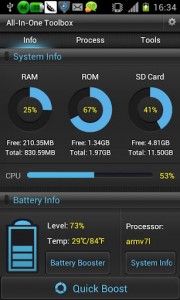 Are you annoyed that your phone is slowly filling up with cruft? Do you find yourself obsessively checking your system stats? All-In-One Toolbox is the perfect app for you.
All-In-One Toolbox has fourteen main tools. You can monitor memory status, view system information, kill tasks, clear cache, clear history, clear call and message logs, clear temporary files, move apps to your SD card, manage files on SD cards, uninstall and install apps en masse, and start up apps with your device. The fourteenth tool is a widget, and while technically not a tool, it's included in the list.
Please note that the task manager part of All-In-One Toolbox is really not necessary. Ending tasks by yourself is a bad idea, and generally frowned upon. However, the other parts of All-In-One Toolbox are quite useful, especially the batch uninstall feature if you're one who likes to download tons of apps.
All-In-One Toolbox is a nice toolkit for any of your Android devices. It's entirely free, and has a very comprehensive widget. If you're looking for a system toolbox for your phone or tablet, All-In-One is a top-notch option.
Price: Free!

Version discovered: v1.3
Requires: Android 1.5+
Download size: 1.7MB
All-In-One Toolbox on Play Store
[via AddictiveTips]
Related Posts