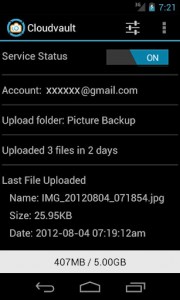 Google+ has the awesome feature of automatically uploading all of your photos and videos from your phone to the cloud without so much as a thought. It unfortunately also lacks the major feature of being used at all, and it also compresses the images. Use CloudVault instead: upload your photos and videos automatically to Google Drive.
CloudVault is extremely simple. You can choose some basic customization, such as whether to upload over only WiFi or not, and it lets you keep track of your free drive space at the bottom of the screen. You can also set the folder to upload the photos to.
If you're not already using Dropbox to upload your photos as you take them, CloudVault is a great alternative. It's fast, and since it uses Google Drive as its basis, you can be certain it'll never go down.
Price: Free!

Version discovered: v1.9
Requires: Android 2.1+
Download size: 1.9MB
CloudVault Photo Uploader on Play Store
[via AddictiveTips]
Related Posts