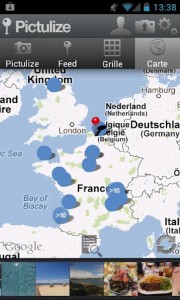 Are you obsessed with travelling? I am. You should be! If you can't afford to actually travel, photos are the next best thing. With Pictulize, you can view photos from all of the places you want to travel to, but can't–and, if you do get to go on vacation, you can share your own!
With Pictulize, you can view photos from a feed (a feed of your Pictulize friends' most recent photos), a grid (all of the latest photos from global Pictulize users), and a map (…). My personal favorite is definitely the Map feature, as it allows me to visit places in France I've never seen and never will.
Overall, Pictulize is a great little app for sharing and viewing photos. It's free, and you can actually find some amazing content with it. If you're looking for a photo-sharing and photo-viewing app for your phone, Pictulize is definitely a great choice.
Price: Free!

Version discovered: v1.0.1
Requires: Android 2.2+
Download size: 898KB
[via AddictiveTips]
Related Posts