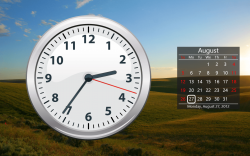 I actually find myself Googling for an online stopwatch quite often. Clock is a free app that could get me to stop: instead of being just a clock, Clock is a timer, stopwatch, calendar, and alarm clock.
Clock is quite functional. It's really worth the 10 megabytes of disk space that it takes up, as it features both a clock and calendar on its main screen. It changes its background every month. Its timer and stopwatch features too are also quite nice.
However, the most important part is probably the Alarm part. You can have up to 6 alarms set at any time you want. Clock unfortunately doesn't have the ability to create recurring alarms, a feature that's pretty much necessary for any good alarm app.
Clock has quite a bit of potential. Its subpar alarm function can be overlooked by anyone willing to use a different device or app for their alarm clock, and it otherwise offers a great stopwatch, timer, and clock app.
Price: Free!
Last updated: 8/25/2012
Supported OS: Windows 8
Supported processors: x86/x64/ARM
Download size: 10.2MB
Related Posts