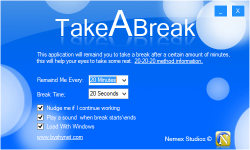 Are you the kind of person who sits down at their computer at one in the afternoon, zones out, looks outside, and notices it's actually one in the morning? If you are, try the free program TakeABreak. This free app pops up messages warning you to take regular breaks.
TakeABreak is all about getting you to stop staring at your screen. By default, TakeABreak is set up for 20 second breaks every 20 minutes. If you think about it, that's barely any time at all, and it's totally worth taking a few seconds out of your day to help your eyes.
There's thousands of apps out there designed to tell you to take a break, and TakeABreak is just one of them. While its default settings are quite nice, it actually takes up quite a bit of RAM for such a simple program–5.5MB when idle–compared to some other programs. It's definitely worth looking at to steal the default settings, and while it may be too large for those with only one or two gigabytes of RAM, it's great for anyone with a large amount of RAM.
Price: Free!
Version discovered: v1.0
Supported OS: Windows 
Download size: 3.0MB
VirusTotal malware scan results: 0/42
Portability: Requires installation
Related Posts