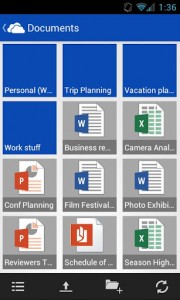 SkyDrive, Microsoft's cloud storage offering, offers a decent amount of free storage space (used to be 25GB but is 7GB for new users now) but has been lacking in one thing: cross-platform mobile support. SkyDrive, of course, is on Windows Phone and — due to their popularity — hit iPhone and iPad late last year. Android users, however, have been left in the dust by Microsoft for a while now. Following the redesign of SkyDrive, Microsoft obviously recognized SkyDrive cannot succeed as well as its rivals (namely Dropbox and Google Drive) without a native Android app and promised to release one soon. Well the wait is now over.
As of today, SkyDrive has officially arrived on Android and can be downloaded from Google Play. The app, which is currently in v1.0 so there may be some bugs although I have not encountered any, is a pretty standard app when it comes to features; it lets you access the files on your SkyDrive account and upload new ones, if you wish. Batch uploading is supported, so you can queue multiple files to be uploaded automatically one after another. Files on SkyDrive can be shared with others via direct links. Interestingly enough, direct links can be generated in two ways: links that allow users to only view the file being shared or view and edit the file being shared.
The two drawbacks I noticed in my short time with SkyDrive are:
No file syncing capabilities. If you have read my article on best free cloud storage app for Android, you know I'm not a fan of file syncing on mobile devices because of battery drain. Still, the feature should be there for those that want to use it. Come to think of it, I don't think even the desktop SkyDrive clients have file syncing. I may be wrong, though.
The app is laggy. Hopefully this will be fixed in subsequent updates.
Hit up the link below to get started with SkyDrive. Remember you need a Microsoft account to get SkyDrive, so you will be asked to login to create a new account. If your Android device is connected to a Microsoft account already, then SkyDrive will automatically log you into that.
Price: Free

Version: v1.0
Supported OS: Android 2.3 and up
Download size: 3.0 MB
Related Posts