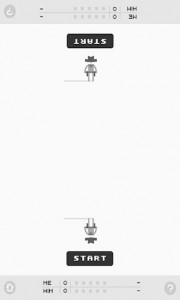 "There is no law, no restraint in this seething cauldron of vice and depravity." – The New York Tribune, 1868
Do you have what it takes to be an Old West cowboy? If you're feeling the need to pit your reaction times against others, Ready Steady Bang is a nice app to do it with. Featuring silly 8-bit style graphics, it simulates the Old West draws in which two people try to shoot as quickly as they can.
Ready Steady Bang has two modes: single player, and multiplayer. In multiplayer, you're pitted against someone across the screen from you, and have to draw quicker than whoever you're playing against. In single player mode, you're shooting against the top outlaws in town. As you progress, you'll amass a gallery of 31 unique cowboy deaths to show off.
If you're looking for a simple game that can be played both alone and with a friend, Ready Steady Bang is a nice app to take a look at. It's simple, free, and has entertaining graphics, and is available now on Google Play.
Price: Free!

Version discovered: v1.0
Requires: Android 2.2+
Download size: 16MB
Ready Steady Bang on Play Store
Related Posts