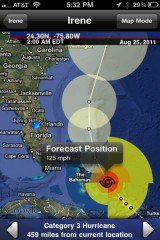 Hurricane is the ultimate tropical system tracker. The app provides up-to-date tracking information for all tropical systems currently in the world. If you are looking for any type of maps associated with tropical systems, then Hurricane has it, including an interactive tracking map. In general, the app provides over 50 animated satellite images and radar. If you are a pro and you are looking for forecast models, the app includes Wind Shear, Vorticity, Environmental Steering, Convergence, and Divergence. Hurricane also includes video feeds about each current storm to keep you updated on how it is affecting the world.
Hurricane is unique in the fact that both professionals and novice will enjoy this app. Storms are tracked all the way back to 1851, so this can be a priceless source of data for researchers. Push notifications are also a useful feature for people that might be in a hurricane's path and want updates. The user interface is also quite pleasing and the navigation is clear and easy to use.
In reality, several all-in-one weather apps include basic hurricane coverage if that is all you are looking for. But if you want an app that takes it further, then look no further than Hurricane.
Price: $3.99

Requires: iPhone/iPod Touch/iPad; iOS 5.0 and up

Download size: 16.0 MB
Related Posts