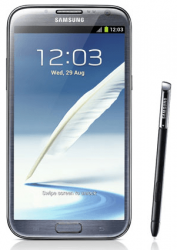 If you put two iPhones together, what do you get? Well if you use your imagination and a little bit of creative math, you get the Samsung Galaxy Note II. No, no I'm not saying the Note II is a copy of the iPhone. Rather, my point is the Note II comes with a screen that will make the iPhone — and many other smartphones, for that matter — look puny in comparison.
Samsung Galaxy Note II, the successor to the popular Galaxy Note, has been officially announced by Samsung earlier this week at IFA Berlin 2012 (an electronics trade show that takes place every year). As reported in an earlier leak, the Galaxy Note II packs a bahamut 5.5 inch HD Super AMOLED screen. This 5.5 inch display lands Galaxy Note II squarely in the "phablet" niche market, as many call it. Of course such a huge phone is not for everyone but damn, is that a beautiful screen or what?
Aside from the screen, we are told the Note II will be powered by 1.6Ghz quad-core Exynos processor, have 2GB RAM, and run on Android 4.1 Jelly Bean. Like the Galaxy Note 10.1, the Note II will come with Samsung's S Pen stylus and Note II's software will have some special apps designed especially for S Pen functionality. Aside from that, there will be a 8 MP shooter on the back (plus a front camera, too, although megapixels are unknown) and Galaxy Note II will come in 16GB, 32GB, and 64GB varieties with a microSD slot.
There is no word on pricing but we are told it will be available in blue and gray colors in Europe, Asia, and Middle East by the end of October. There is no information about when it will come across the Atlantic.
So… anyone going to buy this beast? Let us know in the comments below.
[via Mashable]
Related Posts