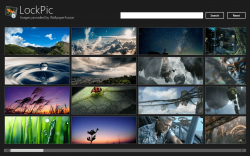 Whenever you lock your computer on Windows 8 you're greeted with a harsh, cartoony picture of Seattle. We get it, Microsoft! You're based right outside of Seattle! If you're looking for a nice picture to replace it with, LockPic may be the app for you. While Windows 8 lets you change the picture to one of your choice, LockPic offers the additional convenience of integrating with WallpaperFusion for a collection of great wallpapers.
Using LockPic could hardly be simpler. You can search for a picture, or just select one off of the starting screen. After you've found one you like, you can download it, read its description, or set it as your lockscreen wallpaper. It's that easy–the only other option is to open your browser and view the wallpaper on WallpaperFusion.
If you're looking for a way to download and set great lockscreen wallpapers, LockPic is a great app for that. It's entirely free, and since it integrates with WallpaperFusion, it's backed up by an awesome collection of some of the best wallpapers on the internet.
Price: Free!
Last updated: 9/1/2012
Supported OS: Windows 8
Supported processors: x86/x64/ARM
Download size: 372KB
Related Posts