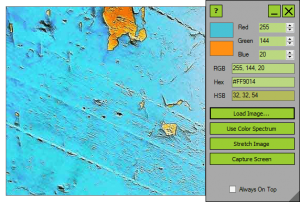 Colors are something that the world underappreciates. You go about your day every day looking at a billion different things with a trillion different colors, but seldom stop to consciously think about how the various colors interact. If you're looking to choose a color scheme for your next project and have found an image or site with a color scheme you really like, Able Opus Color Extractor can tell you exactly what RGB values are being used.
Able Opus Color Extractor is actually pretty simple. You first must load an image–be it an image you've downloaded to your computer, a color spectrum, or a screenshot. After loading the image, you'll be able to hover your cursor over any pixel of it to find the color code for it. Able Opus shows the RGB, Hex, and HSB codes for anything you throw at it.
The screenshot tool is arguably the most useful. It lets you quickly find out the color scheme of any website or online image without the need for downloading anything or taking a screenshot. If you're looking to find out a color code for any pixel on your computer, Able Opus Color Extractor is a great tool for the job.
Price: Free!
Version discovered: v1.0.5
Supported OS: Windows
Download size: 819KB
VirusTotal malware scan results: 0/42
Portability: No installation required!
Able Opus Color Extractor homepage
Related Posts