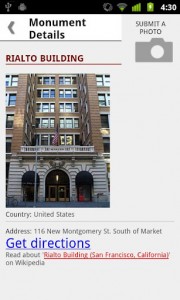 Wikipedia is one of the modern world's greatest inventions. Every day, thousands upon thousands of people read about topics ranging from the history of the modern spork to the number of bricks in Sears tower. (The second one is probably close to zero.) However, there's a very small number of contributors compared to the number of people who simply read and look at Wikipedia content. The Wiki Loves Monuments contest is here to change that. With just your Android phone and a few nearby buildings, you can both contribute to the world's collected body of all information known to mankind and potentially win cool prizes.
With any contest, it's important to know what you're signing up for. You can read about the Wiki Loves Monuments contest on the contest's official website, but it can be a bit hard to find your way around. Essentially, you need to take or have taken unique photos of any worldwide monument, and upload it to Wikipedia under a free license in the month of September. There will be national contests to nominate photos for the international contest.
Also important to any contest? The prizes! This contest has some really nice prizes. Each country has their own prizes, and the international contest has its own prizes too. This basically means there are tons and tons of prizes. The international prizes are definitely the best, though: the first prize is a trip to Hong Kong to meet lots of Wikipedians. The second through tenth prizes are various photography-related vouchers for €50 to €400.
Contributing to Wikipedia is an activity anyone would feel good about. With the potential to win prizes, you can feel even better about it. While your phone's camera probably won't win you any of the top prizes, it's still a great way to be introduced to the contest, and submit photos you've previously taken on other devices. The official app is available for Android and iOS devices today.
Android app
Price: Free!

Version discovered: v1.2
Requires: Android 2.2+
Download size: 771KB
Wiki Loves Monuments on Play Store
iOS app
Price: Free!

Version discovered: v1.1.1
Requires: iOS 4.0+
Download size: 6.9MB
Wiki Loves Monuments on iTunes
Related Posts