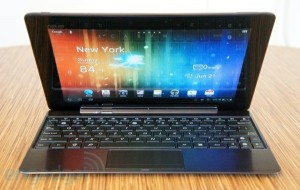 If you have been eagerly waiting to install ClockworkMod (CWM) recovery on your Asus Transformer Pad Infinity TF700T, after unlocking it, wait no more. This guide will help you install TeamWin Recovery Project (TWRP) custom recovery on your Asus Transformer Pad Infinity TF700T. As of now, CWM recovery doesn't have a stable working version for this device. Trying to install CWM recovery on your device might end up in soft-bricking it.
Disclaimer: This guide is intended as a helpful "how to". dotTech and its writers are not responsible for any gain or loss (including but not limited to bricked devices) incurred as a result of following this guide. Install a custom recovery at your own risk. Installing a custom recovery may void your warranty.
Requirements
This guide helps you to install TWRP on Asus Transformer Pad Infinity TF700T. To get TWRP installed on your device using the instructions in this guide, you will need to have unlocked your device. The following guide gives you two effective ways of installing TWRP recovery on your device.
Before We Begin
Before starting off with the procedures to install TWRP custom recovery on your device, make sure that you are ready with the following:
If you will be using the GooManager method to install TWRP, you might not need Android SDK or USB drivers for the process, though they are essential for anyone's computer with an Android device.
How To install/flash TWRP custom recovery on Asus Transformer Pad Infinity TF700T
GooManager Method (relatively easier method)
Install GooManager app from Google Play Store.
Open the app after you install it.
Open Menu -> Install OpenRecoveryScript.
When prompted, grant root privileges to the app.
The device will reboot a number of times. Wait till the installation finishes.
Fastboot method
Turn off your device.
Enter fastboot mode (keep pressing the Power button while holding the Volume down button till the screen responds; select USB icon, press Volume up button).
Plug the device to your computer via a USB cable.
Open a command prompt in your computer (First, press Win + R to launch the Run dialog, then enter "cmd" in the dialog box).
First, change the working directory of the command window to the directory where you had placed the TWRP recovery file (twrp.blob) using the command "cd directorylocation" without quotes (for example, "cd c:\android").
Then, in the command prompt, enter:

fastboot -i 0x0B05 flash recovery twrp.blob


You can unplug and reboot your phone after the process finishes.
Congrats! You now have TWRP recovery installed on your device.
The following video tutorial explains the procedure of installing TWRP recovery on your device:
Conclusion
Enjoy an extensive TWRP on your Asus Transformer Pad Infinity TF700T. Now you can do things such as performing advanced backup and recovery, partitioning SD card and much more.
[via TeamWin]
Related Posts