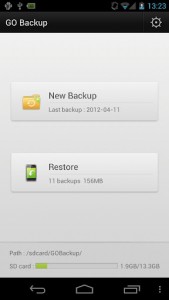 If you're a seasoned computer user, you (hopefully) know the #1 rule of important data: back it up! Losing data is not fun, but losing data when you don't have a backup is terrible. That's why you should always back up your computer… and your mini computers. GO Backup, from the creators of GO SMS, GO Launcher, and more, is a freemium backup app you can try.
GO Backup combines root-required and no-root-required backup techniques to get the fullest possible backups for the most numbers of people. If you your phone is not rooted, you'll be able to backup your contacts, messages, and GO Launcher settings. Once you root and give GO Backup permissions, however, all the world's your stage. You can backup app data–that is, game saves, launcher settings, anything–from any app. You can also disable the app installation window that normally appears when you install apps from places other than Google Play.
Unfortunately, GO Backup is a freemium app. What this means is that they have a monetization scheme, and it does not rely on advertisements. Instead, you must pay to back up more than 200MB of data. This is enough to get you to taste the app, and even back up the vast majority of non-app data. If you're looking for a backup app, GO Backup is one of many possible choices, and certainly seems to work well.
Price: Freemium 

Version discovered: v1.13
Requires: Android 2.1+
Download size: 1.3MB
Related Posts