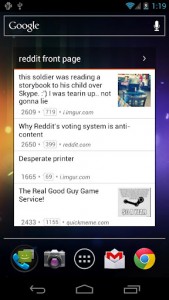 Are you a big Reddit fan? I certainly am. But keeping up with the constant flow of stories and posts can be a real pain sometimes. Redditastic lets you view all of the top items on your homescreen with a nicely designed widget, and when you open them, open in your favorite Reddit app or browser.
Redditastic is designed to either compliment your existing Reddit app or augment mobile Reddit. You can log in to select custom subreddits, and when links are opened, they're opened in your Reddit app of choice. This lets you get a beautifully-designed Reddit widget independent of whichever Reddit app you use, which is nice as many Reddit apps don't come with good looking widgets.
If you're looking for a Reddit widget, Reddistastic is definitely the widget for you to choose. Even if you're not looking for a Reddit widget, or are not even a fan of the site, it's a great way to keep up in the latest funny cat pictures technology and other news.
Price: Free!

Version discovered: v1.1.1
Requires: Android 3.0+
Download size: 286KB
Related Posts