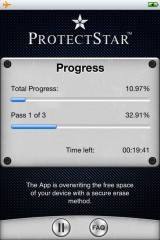 ProtectStar iShredder Std. is a tool to securely erase anything on your iOS device. Whether you are selling your device or letting a techie friend borrow it, you should always feel like your private information is safe and sound. And don't think that deleting something from the device is enough, because that information is still on your phone and can easily be summoned by someone who knows what they are doing. There are two main scenarios that users might run into that ProtectStar iShredder can assist you with. If you are completely finished using your phone (i.e. selling it or throwing it away), you probably want to securely erase every inch of the device. To do so, you want to do a factory reset of your device, configure it as new, and then run this app (after downloading it of course). If you are just looking to continue using your device, then all you want to do is overwrite free space. This will remove traces of any previously deleted files (i.e. apps, photos, contacts, etc.) on your phone so they can't be retrieved by anyone. Doing so is as easy as running the app, but be aware you might get a memory warning towards the end. Don't fret as you can just dismiss it without issue.
Many of you might be familiar with this type of technology due to the popular freeware program CCleaner by Piriform, which provides multiple overwrite methods for securely deleting files. The standard version of iShredder (the one being reviewed) offers 5 options, 1 cycle – erase with 0xFF, 1 cycle – random, 3 cycles – DoD 5220.22-M E, 3 cycles – US AR380-19, and 3 cycles – HMG InfoSec No.5 for secure deletion. There are other versions of this app that offer better secure deletion methods and the developers suggest you get the pro version if you want to delete passwords, private data, etc.
The one thing I don't like about this app is that an overwrite report is not included with the scans like it is with CCleaner, so there really is no evidence that anything happened. It appears that you can only see one if you upgrade to the professional version and get an in-app purchase. I think that ProtectStar would get more respect for this type of service if it was included. It is hard for users to take someone's word for it with all the misleading apps on the App Store.
Price: $3.99

Requires: iPhone/iPod Touch/iPad; iOS 4.0 and up

Download size: 4.7 MB
ProtectStar iShredder Std. on iTunes
Related Posts