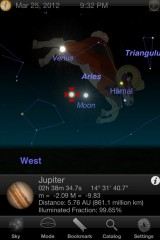 Are you an astronomy buff? Do you stargaze regularly? Do you want to teach your kids about the universe? Whether you say yes to any of these questions or just like having a handy star guide in your back pocket for special occasions, then Star Map 3D+ is a good choice.The app boasts a beautifully fluid interface backed by a database of over 100,000 identified stars with matching detailed descriptions. Star Map 3D+ also features the location and details statistics for 6,441 deep sky objects (i.e. planets, etc.) and 100 artificial satellites (i.e. Hubble, ISS, etc.).
When you first open the app, you will immediately be brought to the view of the starry sky, which will be based on your location (using the iPhone's GPS) and time. You have the option of choosing Planetarium mode, which shows you the sky with a horizon line, Whole Map mode, which shows you the sky without a horizon line, or 3D Model mode, which allows you to compare size and distances relative to Earth.
Some apps in this genre can be a little buggy and not as fluid as you would like, but I didn't have any issues with Star Map 3D+. I especially enjoyed the addition of the 88 constellations designs that are superimposed on the stars that form them.
Price: $2.99
Note: Star Map 3D+ is normally $2.99 but is free "for a limited time" at the time of this writing. No word on when it will go back to $2.99.

Requires: iPhone/iPod Touch/iPad; iOS 5.0 and up

Download size: 20.2 MB
Star Map 3D+: Stargazing and Astronomy on iTunes
Related Posts