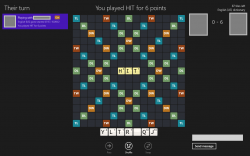 Are you a fan of the real-world game Scrabble, or the Facebook game Words with Friends? Try WordFeud. Building on the everlasting classic, WordFeud adds twists like random boards, push notifications, multiple languages, and more.
Everyone knows at least the basics of Scrabble. You are given a set of letters, and have to form them into words on the board. There are point modifiers, such as double and triple word/letter scores. WordFeud takes these a step further by letting you set them randomly–so there's not a chance of developing an unfair strategy.
WordFeud lets you play not only with your friends, but with STRIKE enemies random people as well. It also lets you chat live with them–taunting, bragging, conceding, or doing whatever you normally do over the course of a standard Scrabble game. You can play up to 30 simultaneous games at once, and get notifications live, too–best of luck keeping up!
Overall, WordFeud is a fun little game for Windows 8. Since it's exactly the same thing as both Scrabble and Words with Friends, it's a little annoying that it can't integrate with either of the official online services, but it's actually a great-looking Scrabble copy. If you like word and board games, WordFeud is definitely worth a look.
Price: Free!
Last updated: unknown
Supported OS: Windows 8
Supported processors: x86/x64/ARM
Download size: 721KB
Related Posts