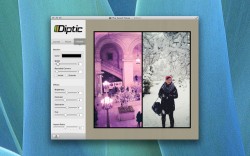 Diptic is an application that allows you to combine multiple photos to create photo collages. This can be exceptionally useful for those of you who are frustrated by iPhotos offerings. Diptic will change the photos' shapes, tones, sizes, and much more. This will give you absolute control over the collage and will make it easy to fit any number of photos you want into it. In addition Diptic provides you with 56 fully customized layouts, most of which are truly fantastic.
Diptic has but one major shortcoming: it does not handle large-sized pictures adequately. If you have a large photo that you want in your collage, it will take an incredibly long time to load compared to the other pictures. Likewise, if you are making a photo collage with all large pictures, then you will wait for quite a long time for them to load properly. In addition, if you are dealing with a large collection of large photos, it is very likely that the application will freeze and not load your pictures at all.
Overall, Diptic does a very nice job of creating photo collages and will be really nice for most basic users. However, if you are attempting to use Diptic on a professional level then you will be very disappointed and should probably look elsewhere. With that minor exception, Diptic is a very good value for the price your are paying and it makes much nicer collages than any other cheap collage out there. So for that fact, I can recommend Diptic to the majority of Mac users, as it can create near perfect collages for family and friends.
Price: $0.99
Version reviewed: 1.0
Supported OS: OS X 10.7 or later, 64-bit processor
Download size: 1mb
Related Posts