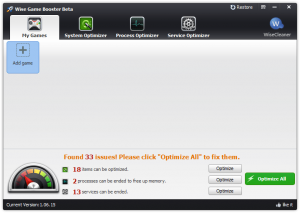 My computer is slow and laggy. There's not much I can do to help that, though, as it's a mid-2010 laptop that had half of its RAM die within a year. However, what little I can do can be automated with Wise Game Booster: it'll close programs, stop services, and overall optimize your system for you in just seconds.
Nothing Wise Game Booster does is not doable by you, and some of what it does actually doesn't speed up your system at all. (It, for instance, decreases the time it takes Aero peek to show the desktop in an attempt to get you to perceive an increase in speed.) It lets you preview the various "issues" it finds, be they system issues, memory hog programs, or irrelevant services, and either run the optimizations yourself or have it run them all automatically.
Wise Game Booster is split in three: system issues, program issues, and services issues. In the first, it tweaks the registry to increase both perception of speed, and in some cases, actual speed. In the second, called Process Optimizer,  it finds programs that are hogging the CPU and RAM and forces them to stop. In the last, it finds services irrelevant to what you're doing–Windows Media Player, anyone?
What Wise Game Booster does is really nothing at all. It just speeds up what could be done better by hand. However, since it lets you speed your computer up with ease, and with the click of a single button, it's a program that may appeal to some. It also allows you to do system restores, which can increase your confidence in allowing it to apply the changes.
Price: Free!
Version discovered: v1.06
Supported OS: Windows XP+
Download size: 1.8MB
VirusTotal malware scan results: 0/41
Portability: Requires installation
[via AddictiveTips]
Related Posts