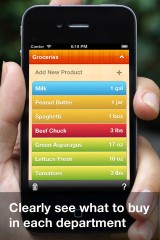 Organizy Tote Bag is a simple shopping list creator for your iPhone. The goal of the app is to develop a shopping list utility that is easy to use when you are actually shopping. When you are in the store and you have a short list of items to get, you usually have only one hand on your phone and the other often carrying a basket. Many of the apps I have tried previously require the use of both hands to remove items. Organizy allows you to hold the phone with one hand and swipe with just your thumb to remove an item from your list.
Though I will say that this app doesn't compare in features to many of the popular grocery apps, there is a market in this genre for simplicity and productivity. Some users want things to be easy and don't want to worry about a ton of features. Organizy provides straightforward creation of multiple grocery lists and quite a large database of grocery items. Please note that the items are not specific though. There are no name brands, but literally the database only contains the food items themselves, which is what many users are used to writing on their shopping lists anyway.
When entering food items into your list, you have the option of adding a quantity, comment, and category. I would advise using the category section as it corresponds to a specific color scheme in your list (as seen in the screenshot). That will help your trip to the food store flow a little bit better.
Just to reiterate, if you are looking for a feature-packed grocery app list, Organizy isn't it. If you are looking for a simple, straightforward list creator, then try it out.
Price: $0.99

Requires: iPhne/iPod Touch/iPad; iOS 5.0 and up

Download size: 6.1 MB
Organizy Tote Bag – Shopping List on iTunes
Related Posts