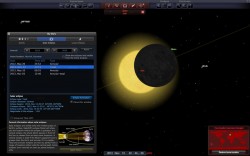 Redshift Astronomy takes the popular concept of Google Earth and takes it into the sky. With this application, you can navigate around the universe and look at planets, stars, and galaxies that you never even knew existed. It has all sorts of terrific features that may give you the illusion that you are in fact an astronaut. It has beautiful graphics and provides you with very high-quality images. However, while Redshift Astronomy has terrific features, it isn't always a pleasure to use.
Redshift Astronomy's statistics telling a stunning tale. According to the developers, you can view 2.5 million stars, 10,ooo minor planets, and 250 famous comits that will pass by Earth at some point. In addition, it will allow you to see over 80,000 Deep Sky objects. Of course, you will also get a very detailed view of all the major planets and the moons in our solar system. Once you find something in space that interests you, Redshift Astronomy will give you as much information as we currently know about the object thanks to Wikipedia. It will also take you on flight patterns and basically give you a tour of certain sites. In addition, you don't need to worry about furture astronomical discoveries because this application will automatically update whenever we make make new findings. If all of this isn't enough, Redshift Astronomy has one killer feature that you will literally spend all day using. It's called Time Travel. With Time Travel, you can go back in time and create an image of what the night sky would have looked like during a specific time period.
The one complaint I have about this application is that it can be very confusing. If you think navigating around Earth is difficult, then you can imagine how confusing it can be looking at everything that is out in space. Using this application can be incredibly overwhelming for those who are not familiar with astronomy. There is just so many bodies out there which means that picking and choosing can be nearly impossible.However, once you get used to how it works, then navigating becomes easier.
The impressive number of examinable bodies makes this application nothing short of stunning. I have never been so fascinated by a single application as I have by this one. Although it can be confusing and overwhelming at times, the amount of information this application gives you is nearly endless. I have looked at planets and nebulae that I had no idea existed. I didn't even know that we could examine bodies as far away as this application shows. I highly recommend this application for anybody who has even the slighest bit of curiousity about the universe that we live in.
Price: $8.99
Version reviewed: 1.0
Supported OS: OS X 10.6.6 or later
Download size: 360mb
Redshift Astronomy on Mac App Store
Related Posts