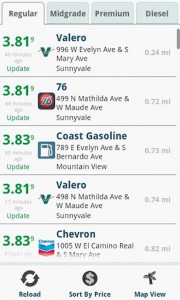 The United States has some of the cheaper gas in the world, beating European countries by around 50%. However, we drive a lot more, and as such, we spend a large amount of money on gas. If you don't like paying large sums of money for gas–who does?!–GasBuddy is a free app that lets you find the cheapest gas in your area.
Building off of the huge GasBuddy database, there's almost always recent gas price updates. In my area, the most recent update as of writing was four minutes ago. These are all submitted by users like you, and can be submitted both through the app and on their website. This is an app built by the community, for the community, so be sure to submit updates whenever you find them!
GasBuddy is an app that's great in function and not so great in design. However, anyone that needs to fill up their car or truck would much rather use an app like GasBuddy than pay a $10 fee for not wanting to use an ugly app. GasBuddy can definitely help anyone that owns any kind of gas-powered car, truck, or motor vehicle.
Price: Free!

Version discovered: v2.15
Requires: Android 1.6+
Download size: 1.5MB
Related Posts