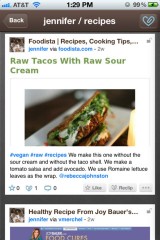 Clipboard is a new app from the creators of clipboard.com. It's main purpose is to share different types of online content (called clips) with your friends, co-workers, and the rest of the clipboard community.
When you sign up for a new (free) account with them, the first thing you will probably notice is that it looks quite similar to Pinterest in terms of concept and content. You can create folders that act as categories for your clips. The main screen is a scrollable list of all your friends' clips, where you have many sharing options at your disposal, such as favorites, sharing and ability to "Reclip".  Clipboard also allows you to visit the original source of the clips.
You probably are wondering what exactly is a clip and why is this app any different than Pinterest. Well Clipboard in a sense does exactly what Pinterest does, but includes more options for clipping. The user can not only clip images, but it also clip links, plain text, and much more. The key for Clipboard, though, is the method in which you can clip which is much more user-friendly than Pinterest when it comes to your phone. Clipboard basically allows you to clip anything that can be copied on your phone. When you copy something, usually by holding down on an item on your screen for a few seconds and hitting Copy, the content immediately goes to your phone's clipboard. So all you have to do is open the Clipboard app and click the icon in the upper right-hand corner and your content will automatically be processed. You will then have the option of adding some descriptive content, and then adding it to your board.
I am going to go out on a limb here and say that this app could be better than Pinterest. Give it a try and see what you think.
Price: Free
Requires: iPh0ne/iPod Touch/iPad; iOS 5.0 and up

Download size: 7.2 MB
Clipboard for clipboard.com on iTunes
Related Posts