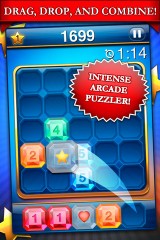 Gems With Friends Free is Zynga's newest multiplayer game from its long line of App Store hits. The app's gameplay seems to be a mix of Scramble With Friends and Matching With Friends, but with some Gem number play thrown in. Gems possesses many of the same features as its predecessors, including turn-by-turn notifications, in-game chats, and speedy touch controls.
The game itself is a unique one that I haven't quite seen before. When I saw the app's name, I almost certainly expected to open the game and see some type of typical jewel matching game, but in a multiplayer format. In reality, Gems features a whole new concept for this match-3 thriller. The idea is to combine three similar numbered gems, so they morph into a number one higher in value. You try to continue doing this, because the higher the number on the gems, the more points you accumulate when they are matched. You are also asked to pick a random power-up at the beginning of each game that will help you increase your scores whenever they are used.
Gems is played in turns, with each player receiving a certain amount of time to accumulate your score as high as possible. The highest score after three rounds is the victor. Since the rounds are timed, like in Scramble With Friends, there is a bit of tension involved in the game. If you are a user that likes to take your time, like in Words, Hanging, and Matching With Friends, then this might not be the game for you.
Price: Free
Requires: iPhone/iPod Touch/iPad; iOS 4.3 and up

Download size: 24.0 MB
Gems With Friends Free on iTunes
Related Posts