If you're looking for an easy way to edit the photos you take on your iPad without having to send them to your desktop first, Ultimate Photo Editor is a good choice. It allows you to take photos right from within the application, and then immediately go into edit mode to see what you can do with them.
In order to test it, I snapped a picture of my right hand monitor and the desk right in front of it. Pulling up the first option in the editor, Enhance, I was able to select that the subject was backlit. Suddenly the clutter on my desk was a lot clearer. The next option, Effects, allowed me to tint the image different colors and in some cases even add a simple border, making it seem as if the picture was already in a photo album.  With a simple tap, I could go from a full color photo, to black and white, to old time yellowed paper (and believe me, that looks incredibly strange on a picture of a computer monitor).  The next option is a free add on download – stickers. I used this to place a fez on the souvenir alligator head that's on my desk because, after all, fezzes are cool.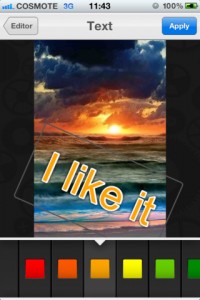 I was actually pleasantly surprised at how much versatility Ultimate Photo Editor Lite has, for being free. There's also a paid version for $3.99, but I can't see as needing more functionality than what this free version provides. The only annoyances are the occasional ads that pop up at the bottom of your screen while you're working, but they never cover anything you actually need to see. I can see myself using this for quick on-the-go photo editing in the future, and I highly recommend it.Some other things that you can do is crop your image (which gives you not only the custom option, but pre-defined crop sizes if you have something in mind), change the orientation of the picture from portrait to landscape and back again, adjust the brightness, contrast, sharpness and color saturation of your image, and even draw on it or add text. There are tools to remove redeye, whiten areas (such as teeth), and even a tool to help reduce blemishes.
Price: Free with $3.99 paid version

Version reviewed: 1.1
Requires iOS 4.2 or later
Download size: 13.5 MB
Related Posts