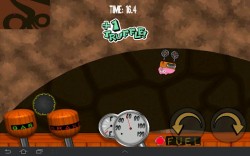 What happens when a mischievous pig finds its way into a truffle warehouse? You end up with a eccentric game in which you race up and around curves, spins, and even over giant spinning rocks. That's the idea behind the quirky new game Farm Breakout, in which you pilot a wacky pig's rocket cart through a farm attempting to find the largest, most delicious truffles in the world.
The whole game actually takes place inside of Pete's dreams. He's riding in a rocket-powered cart through an odd land filled with tightropes, cows, and of course, giant truffles. You get to pilot the craft! Be careful you don't let him fall, though, as once he falls off, you're done for. There are lots of levels, and, in each, tons of hidden truffles. Find them all, and navigate crazy levels, as shown in this preview video by the developer:
There's only one thing about this app that screams annoying. On every level, even after the extremely short and extremely easy beginning levels, you're prompted to click the ads to support the developer. It's not only annoying; in fact, it's against Google's terms and conditions, and it'll be fun to see whether ads are entirely removed from Farm Breakout or not. If they were to get rid of this splash screen–or even only show it only once each time you open the app–it'd be a lot less annoying, and a much more fun game.
The existence of a farm, a pig, and truffles is really only to create a story behind the fun physics game inside Farm Breakout. It reminds me a lot of the free (and awesome) flash game Free Rider, a game in which you can not only spin around huge tracks and designs, you can also build your own. It'd be great to see this added to Farm Breakout, as it has all of the physics components already built. Even as is, though, I definitely find myself enjoying playing Farm Breakout, and it's definitely worth downloading if you enjoy racing/physics games.
Price: Free!

Version discovered: v1.0.3
Requires: Android 2.1+
Download size: 17MB
Related Posts