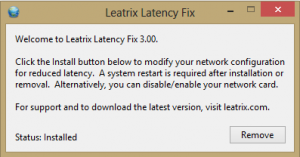 Windows is the world's most popular gaming platform. Through markets like Steam and Origin, as well as the traditional box-and-disc market, it's remained at the top of the food chain for many years, too, including the segue into the multiplayer world. Properly running a multiplayer game, of course, requires a low ping time, which is something that many have and many others should. If you enjoy playing multiplayer games on your computer, but have been struggling with unusually high ping times, Leatrix Latency Fix may help.
At first glance, you may think that Leatrix Latency Fix is too good to be true. How, you might ask, could such a tiny and simple program make my ping time improve? The answer might surprise you. By default, Windows bundles groups of internet packets into little packages to send over the network, instead of sending them one by one. Doing so keeps the network clear of traffic and clean for others to use. However, it also means that any packets at the beginning of the package are needlessly delayed, and can increase your ping time significantly.
Leatrix fixes this with one heavy blow to the Windows. It disables this feature, making your computer send packets as soon as they're ready rather than waiting several milliseconds. If you don't use your network for gaming, this can be annoying, but if you do, it's definitely an improvement.
There's nothing magic that can be done to improve your internet connection. Leatrix Latency Fix, however, comes close, and if you're doing some sort of ping test contest, it could push you over the edge to victory.
Price: Free!
Version discovered: v3.00
Supported OS: Windows XP+
Download size: 4.7MB
VirusTotal malware scan results: 0/39
Portability: Requires installation
[via Ghacks]
Related Posts