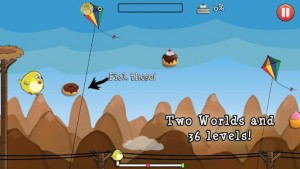 One day, Chubby was relaxing in the forest when he got a text message. It was time to go home to dinner! There was only one slight issue: he had a very hard time flying, and the sky was littered with obstacles. Help him get home by flying him across the sky in the new 36-level game Chubby.
If you've ever played the free game Helicopter, you'll instantly know how to play Chubby. It's actually a much improved version, featuring a better story, much better graphics, and a bird that just can't fly. That's what you're for: every time you tap or hold on the screen, Chubby will flap and go up. If you let go, he'll continue to fall forward, but will also fall down. You need to successfully use a combination of these two to avoid annoying airplanes, kites, and other obstacles on Chubby's way home.
There's also Arcade mode, which is much different from Story mode. It's in fact a lot more like the orignal Helicopter game, featuring a never-ending, computer-generated map that stretches on as long as you can hold it. In Arcade mode, you'll receive powerups, and the ability to post in an online leaderboard.
Chubby is a fun game, and it's nice to see a good version of Helicopter available for Android. It's also nice to see it so well dressed up, since most copies of the game are just low-quality copies of the original. Chubby is definitely a worthy download for anyone who likes arcade games!
Price: Free!

Version discovered: v1.1.2
Requires: Android 2.1+
Download size: 11MB
Related Posts