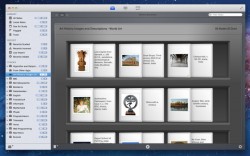 Mental Case is fantastic application that creates virtual flashcards. This will be useful to anybody that that has to memorize anything. Mental Case creates flashcards in a clear, easy to understand format. This is absolutely essential because if you are studying information, the last thing you want is to be confused by the format of the flashcards your are using. While Mental Case does a great job of this, there are a couple quirks that keep this application from shooting to the very top.
Mental Case is almost the perfect flashcard creator. Not only can you add basic text to your flashcards, but you can also add audio, video, and image files. This is great because it means your can literally add as much information as possible. This will ensure that you are getting the most out of your cards. Once you've created your flashcards, you can then sort them into different stacks depending on the subject you are studying. In addition, Mental Case will keep track of your study progress, which will allow you to see which areas need more work. Further, Mental Case will sync all of your cards and your study progress to any iOS device; it can even sync to other Macs through iCloud. This application also supports downloading flashcards directly from FlashcardExchange and Quizlet, which means you have access to millions of flashcards, already sorted into popular subjects.
There are a couple user interface issues that are rather odd with this application. For starters, you can't seem to sort the flashcards alphabetically. This makes absolutely no sense because it seems like such a basic and useful feature that they could have very easily included. In addition, Mental Case doesn't really display the source of the cards properly. The sources are displayed but it seems as though that this was an after-thought feature because the font is very small and doesn't flow with the rest of the application properly
Overall, Mental Case is truly a fantastic study tool for any type of person. Although it has some minor inconsistencies, it isn't really enough to lure you away from it. Mental Case really is one of the top flashcard applications out there because you can use any form of media you want to quiz yourself. This will appeal to all different type of learners and will undoubtedly be a fantastic addition to any student's study habits.
Price: $14.99
Version reviewed: 2.3.1
Supported OS: OS X 10.7 or later, 64-bit processor
Download size: 30mb
Related Posts