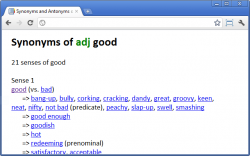 Thesauruses are fantastic things. They can help you expand your vocabulary and ensure that you don't sound like every other person writing about your chosen topic. On the flip side, used incorrectly, they can make you sound verbose and overbearing. However, that doesn't stop them from being useful. When I saw there was a Thesaurus extension for Chrome, I got very excited and couldn't wait to install it. What can I say – I'm a writer at heart. Dictionaries and thesauruses make me happy.
I installed the extension, and looked for whatever button it was going to give me, but couldn't find one. I brought up my extensions settings, and to my surprise it wasn't listed. I went back to the webstore and clicked "launch app". It took me to this site, which is a functional and very nice thesaurus. However, I was getting annoyed that I'd found yet another awesome extension that turned out to be nothing but a link to a website. Then I noticed something. Underneath the Thesaurus word box, it said "To open Thesaurus in the future, choose "New Tab" then click on "English Thesaurus."
I followed those instructions – no "English Thesaurus" button appeared. I did this twice more before having an epiphany. I use an extension called Speed Dial that mocks the Opera Speed Dial layout in your new tabs. I went into my extensions and disabled Speed Dial, then opened a new tab. THERE was the Thesaurus button. I clicked it. It still opened the same website. But at least I could see it now.
So I suppose my complaint with this extension is two fold. One, I can't use both it and my Speed Dial, which is fairly invaluable to me. And two, all it is – once again – is a link to a website. I could accomplish this by Googling "Thesaurus" and bookmarking the first site that came up. Grab this if you want it but, if you'll excuse me, I'm uninstalling this and re-enabling my Speed Dial.
Price: Free
Version reviewed: 1.4
Requires: Chrome
Related Posts