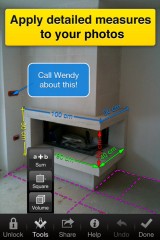 My Measures and Dimensions PRO is a tremendous tool that can be used increase the productivity level of various professionals. The app starts you off by getting a photo from with the camera or photo library, where you goal is to measure some object(s) in the drawing. Once the photo is on the screen, you are given several different controls that allow you add lengths, angle measures, or text to the objects in the photo (as seen in the screenshot).
My Measures and Dimensions PRO has a nice user interface of tabs at the bottom of the app that is easy to use and quite fluid. When you create a line or angle, all you have to do is double-tap on it to edit the measurement, which in itself is highly customizable (i.e. change line shape, color, and unit). The developers also smartly added in a tools menu to calculate several relevant values such as area, volume, and much more. I don't want to forget the handy undo button which is absolutely necessary in app like this, but somehow is overlooked in many instances.
As you can imagine, this app could come in quite handy for any professional job that requires measurement of some kind. Engineering, architecture, and interior design are just some of the fields that I can think of off the type of my head. You would basically have a permanent photo copy of every measurement that can be immediately sent to email, the photo library, or printed. It was worth noting that I actually was quite disappointed that some type of cloud sharing services weren't included in this, given the hefty price tag.
Price: $5.99
Requires: iPh0ne/iPod Touch/iPad; iOS 4.0 and up

Download size: 7.2 MB
My Measures and Dimensions PRO on iTunes
Related Posts