I love YouTube. I spend a lot of time on it in my off hours, watching videos, listening to music to help me decide if I want to buy the album, laughing at funny animals, etc. But when I'm offline, I can't watch my favorite videos anymore, and it is kind of frustrating. To correct this, I found Total Downloader Free.
Total Downloader Free is a browser. Yes, that's right – a browser, for the iPad. It looks like Safari at first glance, but then you notice the context menu at the bottom of your screen: Browser, Downloads, Archive, Playlist, and Settings. This is a good hint that Total Downloader Free is more than just a browser. When on a web page or watching a YouTube video, you can click the "actions" button in the upper left of the window (between the bookmarks and home buttons), and have an option to download all media on the site you're currently looking at. Pictures, Document files, YouTube videos – it's all supported.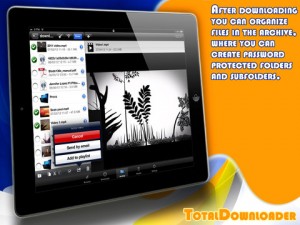 As my test, I went to my own personal YouTube channel and downloaded one of my own videos. The moment you load up YouTube, Total Downloader pops up a tiny, unobtrusive window that says "YouTube Video Detected. Download?" and has the options to download or cancel. I clicked "Download" and was prompted to name my file. The file downloaded quickly and easily while the video was playing, and was finished downloading before the video had actually finished playing all the way, which surprised me.
Clicking on "Archives" at the bottom, I was able to pull up my video – it had also saved the page that the video was on as a webarchive link, so I could easily pull the video up on the web again if I wanted to. I didn't want that, so a click of the "Edit" button at the top, a tap to select the webarchive, and a second tap on the trash can below to delete it was all it took to get rid of that. Now that I had my video downloaded, clicking it gave me the option to add it to a playlist, or even send it somewhere via email. It was fast and convenient, and I was actually very pleased with the application over all.
The free version is ad-supported. The ads can be a little annoying from time to time, but if that really bothers you, there is a $2.99 version without ads available on the aApp Store as well.
I'll be using Total Downloader Free regularly to make sure I can watch my favorite YouTube videos while on planes and other places that don't allow WiFi. For that alone, it's definitely worth a look for YouTube-philes like me.
Price: Free ($2.99 ad-free version available in app store as well)
Version reviewed: 1.25
Requires iOS 5.0 or later
Download size: 11.8 MB
Total Downloader Free on Apple App Store
Related Posts